All you have to do is mix. And freeze.
Nama chocolate
And you'll only need three ingredients. Isn't this a perfect recipe?
It has been a while since I post recipes and this one's loooooooongggggg overdue. I was just thinking to make it again a few days ago and realized I haven't even posted it since I first made it almost like a year ago.
Anyway,
nama chocolate
is magical. You may know it from the famous
ROYCE Chocolate
brand, but before you carry on, I probably should say that mine isn't as good as the real thing. But I am more than ecstatic about my nama chocolate. 'Nama' itself means raw or fresh in Japanese, referring to the fresh cream used.
Ingredients
__________________________________________________________________________
Nama chocolate
Recipe from Just One Cookbook
Ingredients:
400 gram (14 oz) good quality dark chocolate (70% cacao), but you can also use semisweet for less bitter taste

200 ml fresh cream (heavy whipping cream)

Liqueur of your choice (optional)

Cocoa powder to coat the chocolate
Instructions:
Chop the chocolate into smaller pieces using a knife so that they will melt faster and more evenly.

Line an 8" x 8" (20 x 20 cm) baking dish with parchment paper. Choosing the right size tray is important as the height of chocolate is decided depending on how much you pour.

Add the heavy whipping cream into a small saucepan and bring it to ALMOST boil over medium heat. Keep an eye on the cream; when you see bubbles around the saucepan, remove from the heat.

Add the chocolate and stir till the chocolate and cream are completely combined. Add liqueur of your choice (optional).

Pour the mixture into the prepared baking dish. Smooth the surface and refrigerate until firm, about 4-5 hours (or overnight).

Remove the chocolate from the baking dish and cut it into cubes using a warm knife. Make sure to warm the knife after each cutting to prevent splintering. You can use hot running water but wipe it off completely before each cut.

Sprinkle the cocoa powder and serve it chilled. You can keep in the refrigerator for 2-3 days but enjoy soon.
Note:
The ratio of heavy whipping cream (ml) and chocolate (gram) should be 1:2. Please do not replace chocolate with white chocolate for this recipe. The ratio is not the same.
Making process
__________________________________________________________________________
So I have a confession. I didn't do it in purpose but I ended up making it with 1:1 chocolate and cream ratio. Since then I tried again with the recommended 1:2 ratio and guess what, I think I prefer the former. Sure, the result took longer to freeze and melted more easily, but I really love the increased level of creaminess and decreased bitterness.
It's your call, of course. I'm not saying which one's better, so you have to try and make it yourself. It's only three ingredients, and it yields such delicate, melt-in-your-mouth morsels.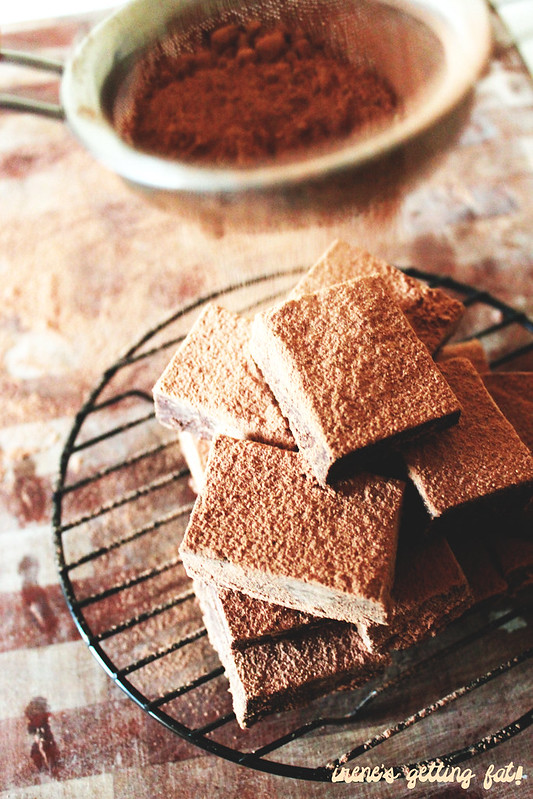 Dusting
I also agree that the quality of the ingredients can affect the result significantly. Use high quality chocolate, and although I usually use the good old Cadburry for convenience sake, I recommend
Matale chocolate
.
Also, from the same website I learned that it is extremely important to ensure that all utensils are completely dry or the water/steam may screw everything up. We don't want separated or seized chocolate! Check the link again for
troubleshooting tips
.
Seriously, I recommend you to try this recipe. Three ingredients and just mixing and freezing, surely even the laziest person can do it? And believe me, it'll be worth it.
And if you do try making this, any chance I'll get some samples? ;)
Let me know if you'd like 1:1 or 1:2 ratio better. Happy nama-chocolate-ing!