'You don't need to go to Seoul to experience Korea'
Korean BBQ at Bassim, Strathfield
Couldn't agree more.
This is my first ever food tour, and it couldn't get much better than that, I gotta say. I booked this Little Korea Walking Tour from
Taste Food Tours
, which is also a part of Crave Sydney 2012, hoping that my $90 wouldn't be spent in small bites and exhausting walk. And it is probably the best $90 I've ever spent.
This post is a long one, so I'm trying to limit the words and yes, there are lots of pictures. Enjoy.
A bit about Taste Food Tours
Taste Food Tours emphasizes the cultural diversity in Sydney, which is reflected through the amazing variety of food we can expect to find here. The tours, if I'm not mistaken, are focused in Sydney South West area. The great thing is that if you are taking part of a tour, you're actually donating to the community, as the money you spend is going back to the local community.
A bit about Strathfield
Our day was started with a brief yet interesting points about Strathfield. The railway station there is one of the busiest train stations in NSW, and it wasn't supposed to be a 'capital' of Korean culture. The Koreans moved there because the area is close to Campsie (which has tons of Korean markets, restaurants, etc.) but overtime the role shifted, and thus Strathfield has been dubbed the 'Little Korea in Sydney' since. Here, Chinese and Korean cultures can be mostly found.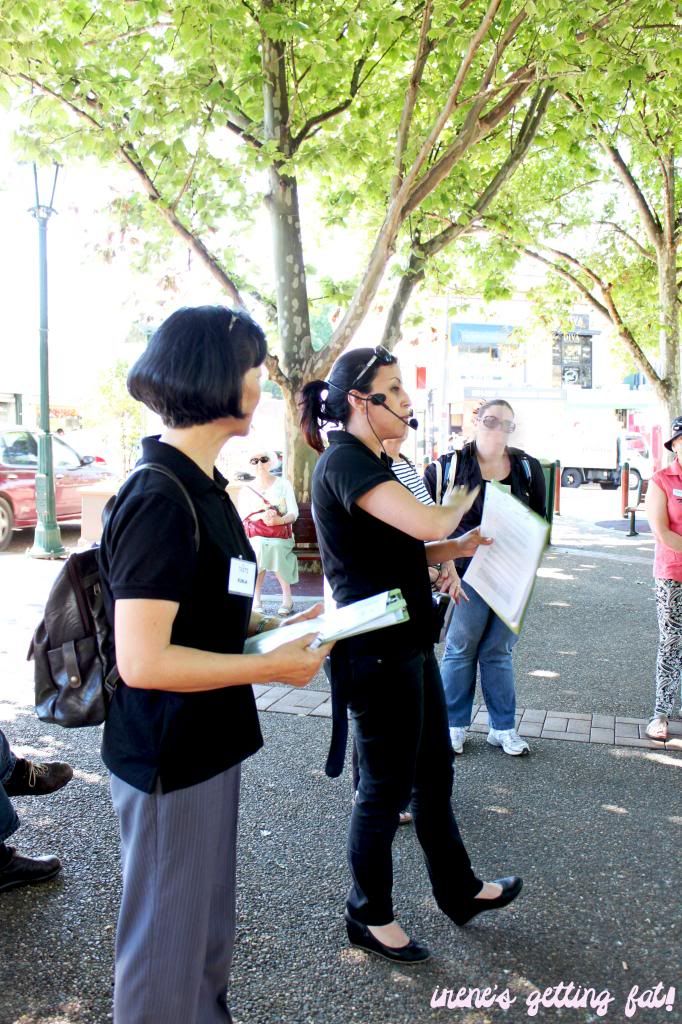 Zizi and Kunja, our lovely tour guides
First stop
My Sweet Memory
My Sweet Memory is such an unique stop. It's half
café half stationery store. Apart from the beautiful dessert selections behind the display glass, the stationery stuff isn't short of cuteness factors as well. The place can be a bit stuffy for some people due to the large number of displays and shelves, but it's not for me. Leave me there for an hour and I'll kill my wallet with those cute little notebooks or elegant pencil cases.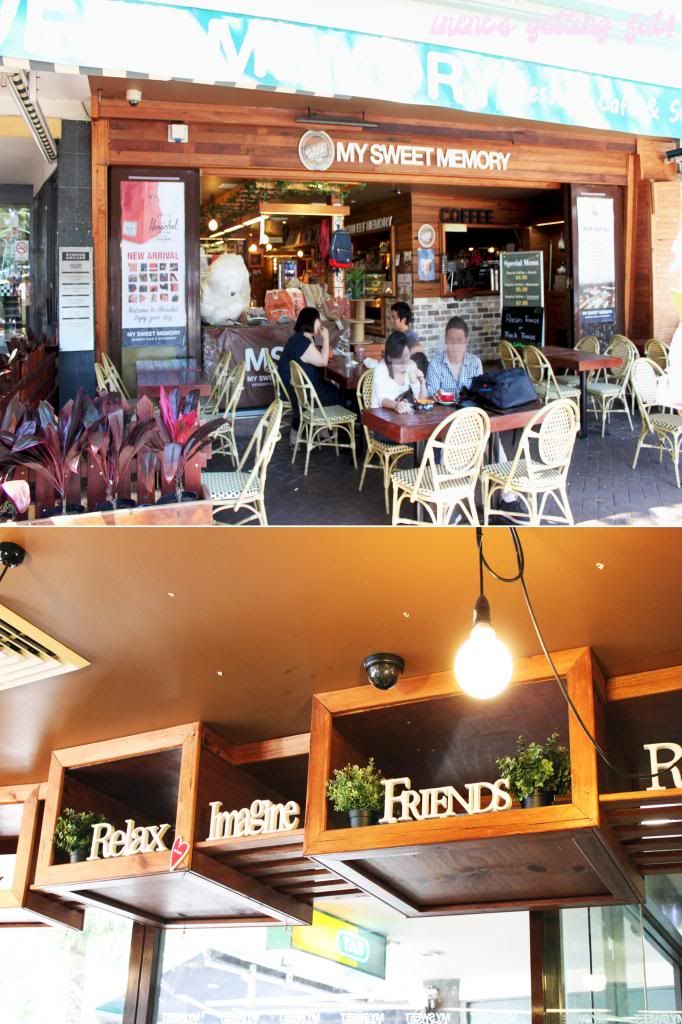 My Sweet Memory, Strathfield
The stationery selections and ice cream machine (bottom right)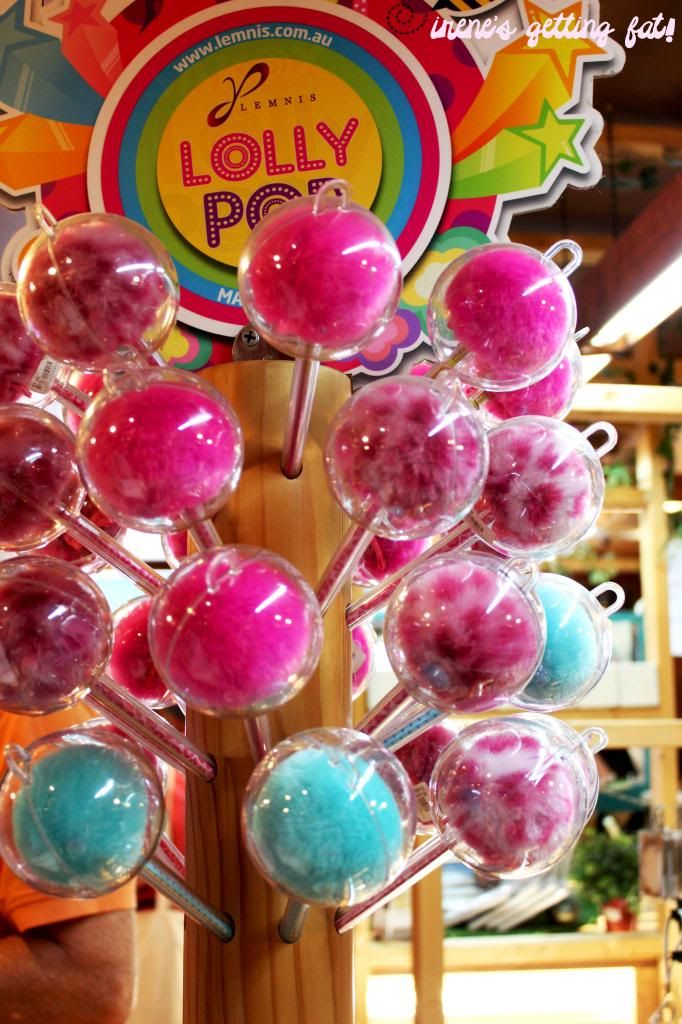 Pens or candies?
We were there for a caffeinated start. Hot chocolate wasn't offered so I opted for
black tea
. Most of the tasters chose coffee though.
Distributing coffee/tea orders
Didn't feel like getting killed by curiosity, I decided to try their recommended
salted caramel macaron
, and it's very likely to be the best salted caramel mac I've had. It ticks all the right boxes in terms of textures and shell-filling ratio, and I just love the slightly salty notes making appearance at every satisfying bite.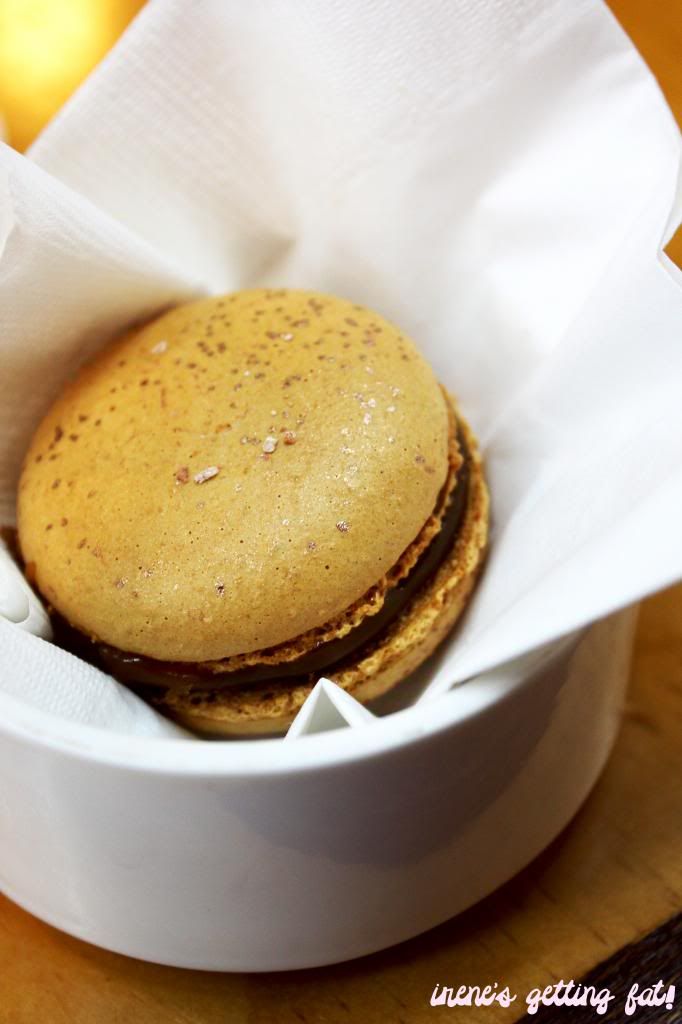 Salted caramel macaron - $3.2
Second stop
Rainbow Cakes
Before we entered the store, Kunja, our Korean tour guide, explained that Koreans still don't consider or getting used to eating bread as a meal. Also, instead of bread or cakes as dessert, they have fresh fruits. There are many pastries and bakeries there, nowadays, but lots of the bread filling/ingredient involves the beans: mung bean, red bean, white bean. Kunja also emphasized that Korean food is relatively healthier, with less usage of butter, oil, or other fattening ingredients.
Rainbow Cakes specializes in fusion cakes. Some of their masterpieces are French-inspired, but with Korean twists. The store isn't spacious, but the cakes and bread on the glass windows scream for attention.
Rainbow Cakes, Strathfield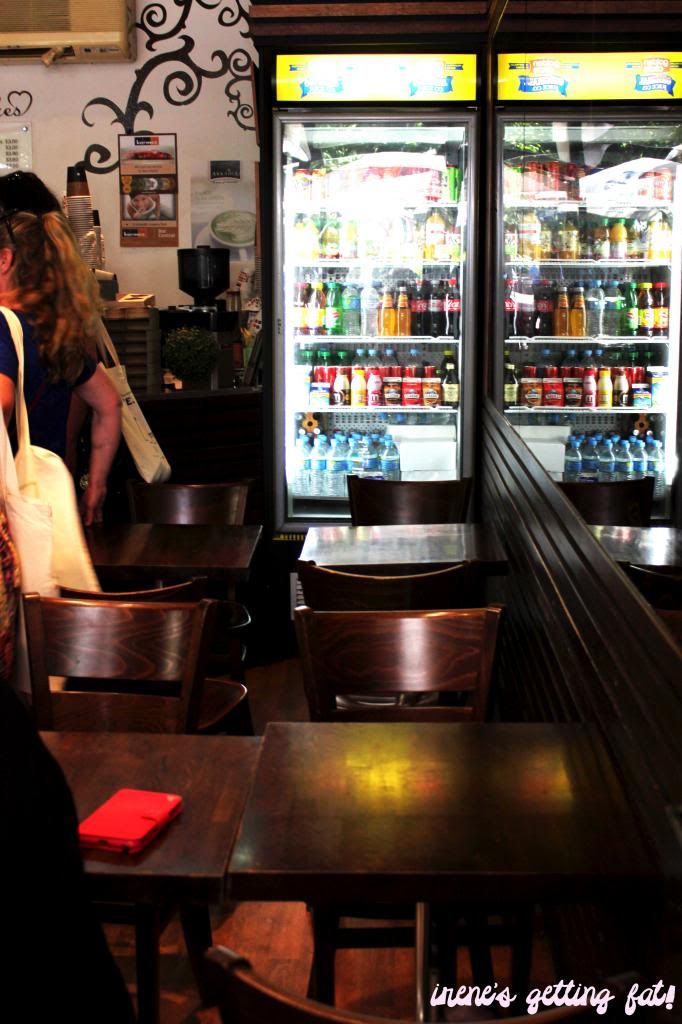 Inside the store
Displays
We did try a bit of everything from the store. My fav would be the
sugar donuts
with white bean filling, but the
tiramisu
is also favourited by being cold, creamy, and as light as air.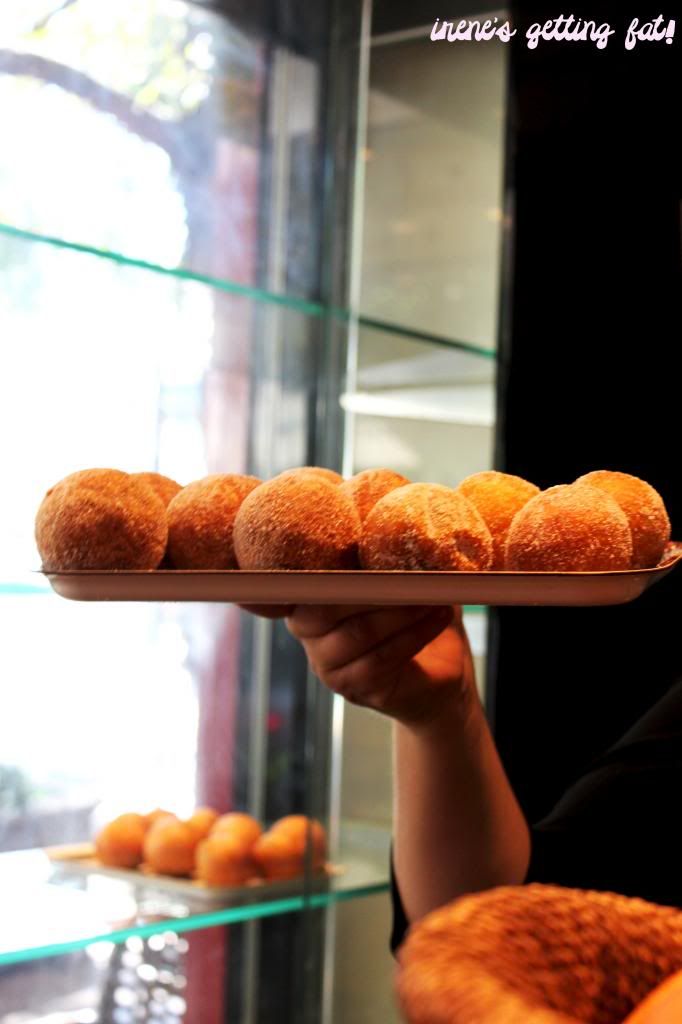 Sugar donuts with white bean fillings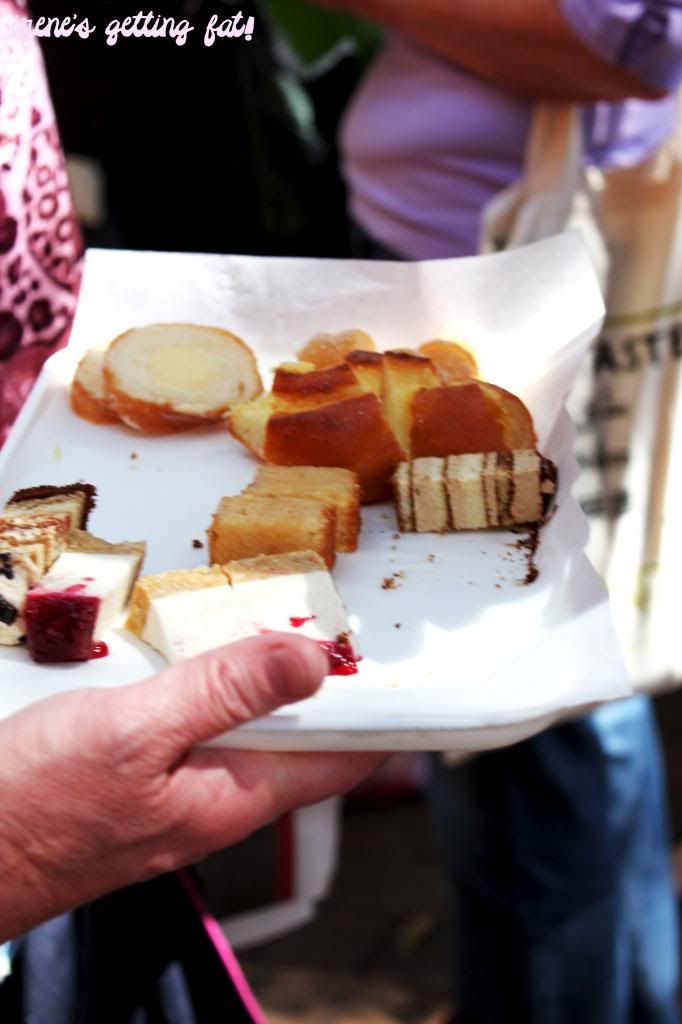 A little bit of everything
Third stop
Strathfield Butchery
Next, we're up for a meaty heaven. Strathfield Butchery is a perfect store to get your cut of selected protein, they have lots and lots of selections. The owners, Stella and her husband, used to own a restaurant, so they know people's preference and favourites. They open 365 days a year, and they specialize in wagyu beef.
Another interesting thing pointed out by Kunja: Koreans are really fussy about their lean meat.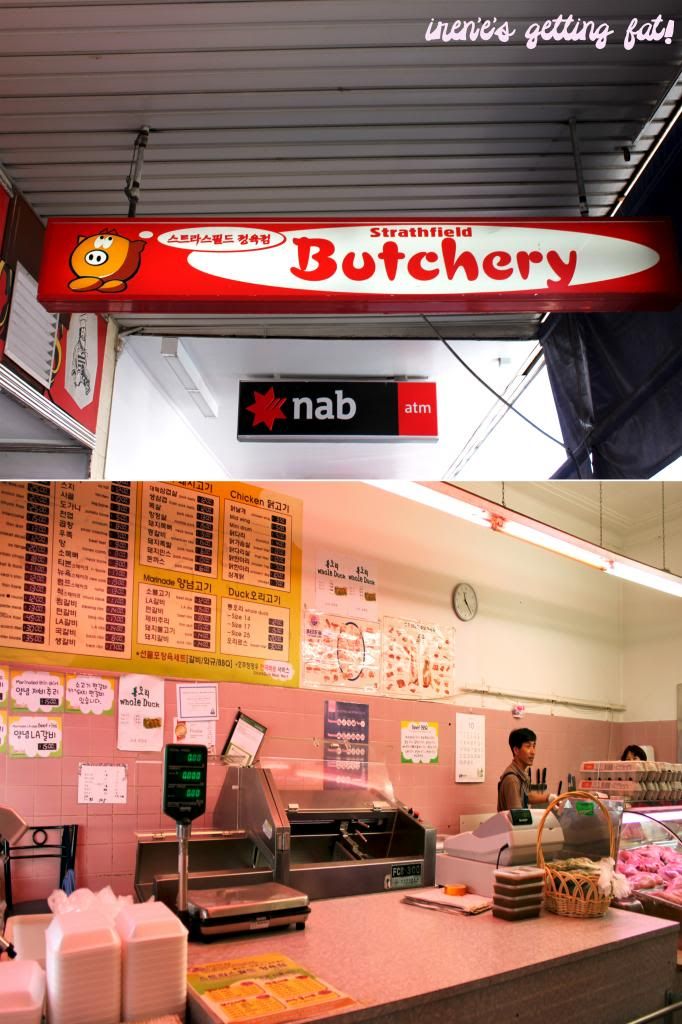 Strathfield Butchery, Strathfield
Meaty goodness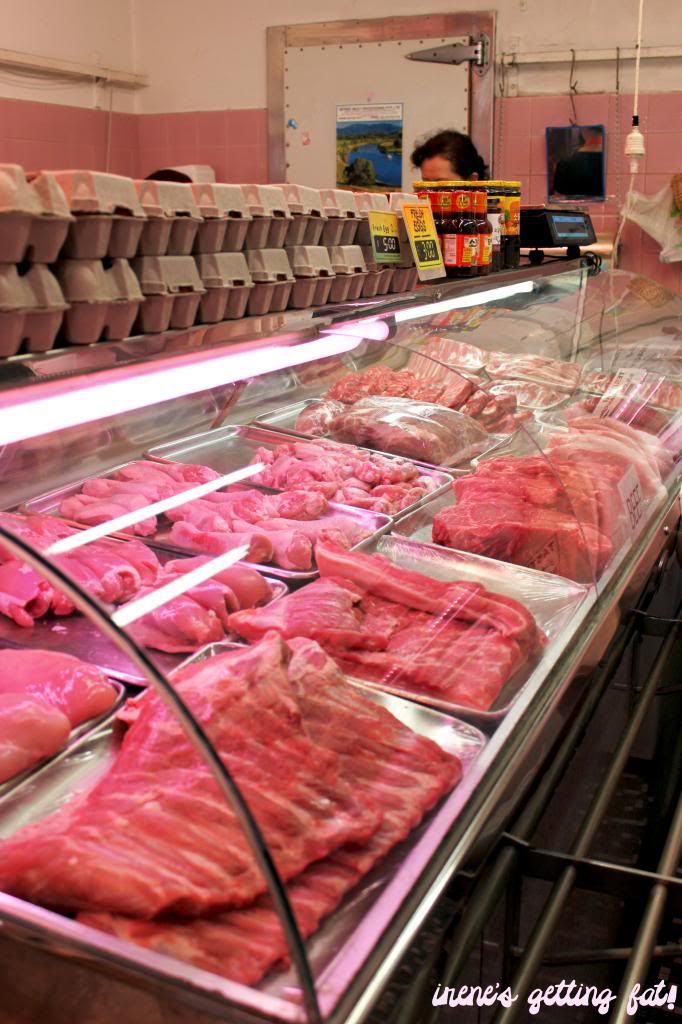 Pick your cut
Marinating sauce
We were very welcomed to make another visit here when the tour's over, so Tina showed us the stars of this butchery. Stella also offers her
homemade marinated beef
(
bulgogi
) and the spicy pork, I reckon it'll taste awesome.
Doenjang
(fermented soy bean paste) is also on sale, we can use it to make
ssamjang
(soy bean dipping sauce).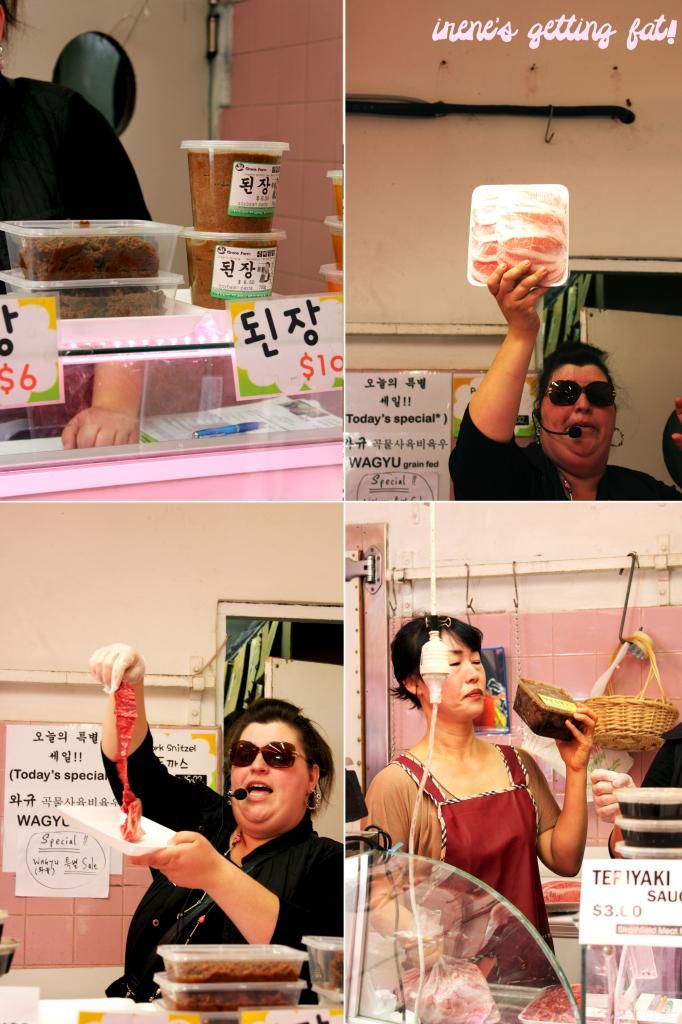 Tina and Stella showing things: (clockwise from top left)doenjang (fermented soy bean paste), pork cheek, galbi, marinated beef (bulgogi)
Fourth stop
Matt Zzang
It's a good timing because I was getting hungry when we reached this stop.
Matt Zzang is far from luxurious, but the food is homemade, which always deserves a good point for me. Upon entering we were welcomed by the smell of Korean style snacks; ranging from
kimbap
(Korean style sushi rolls but different from sushi), mung bean pancakes,
ddeokbokki
(rice cakes in spicy sauce), and much more.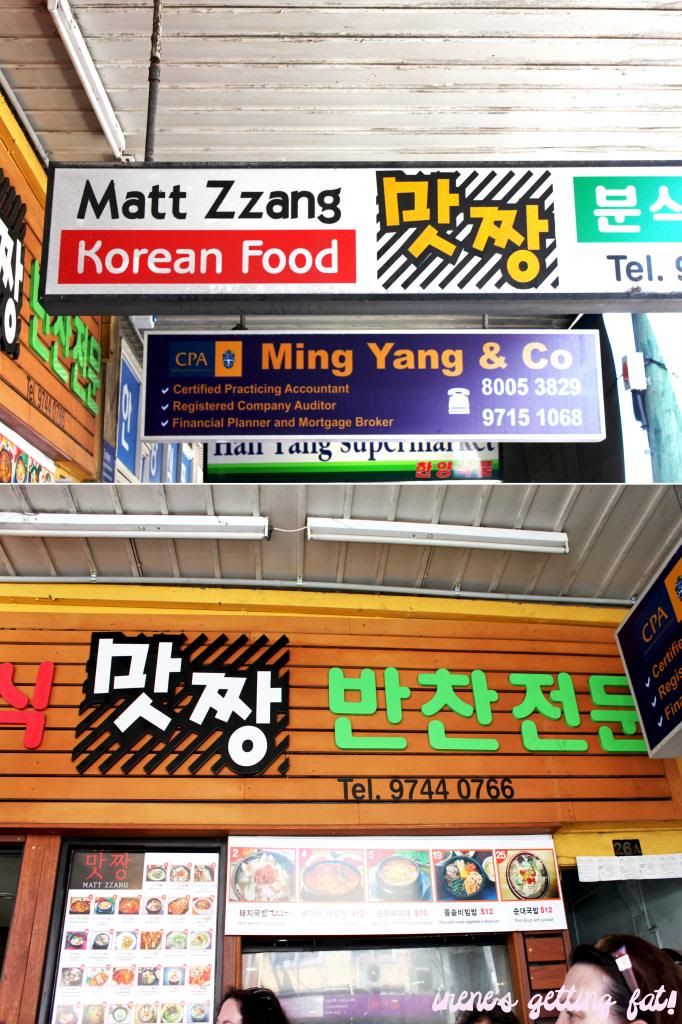 Matt Zzang, Strathfield
Menu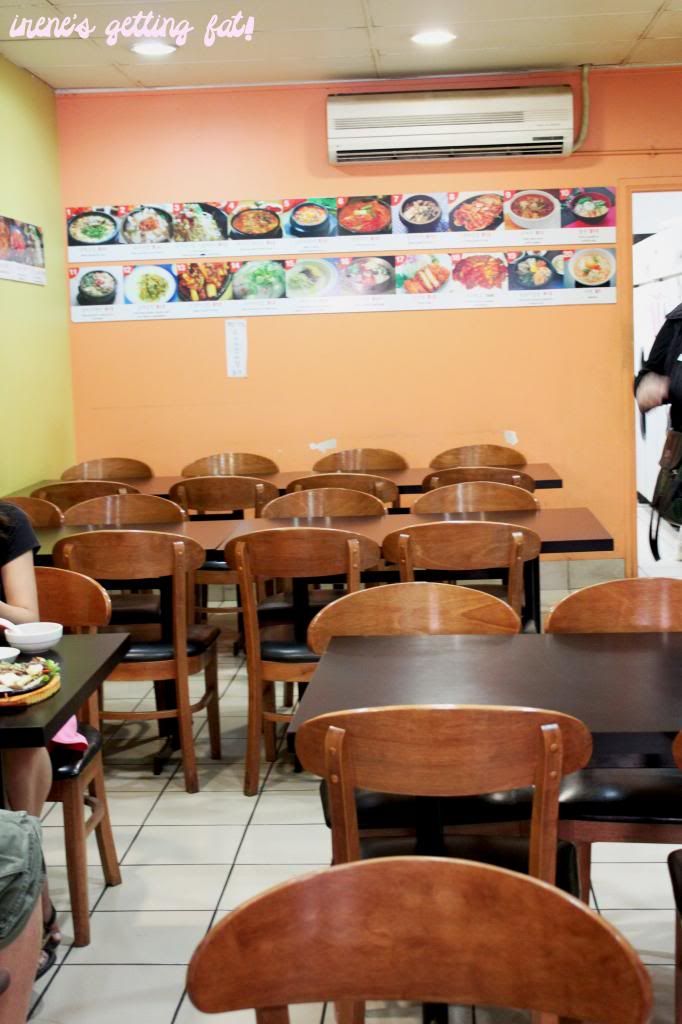 Dining area
Freshly made kimba

p

(Korean sushi rolls)
Another lines of hearty snacks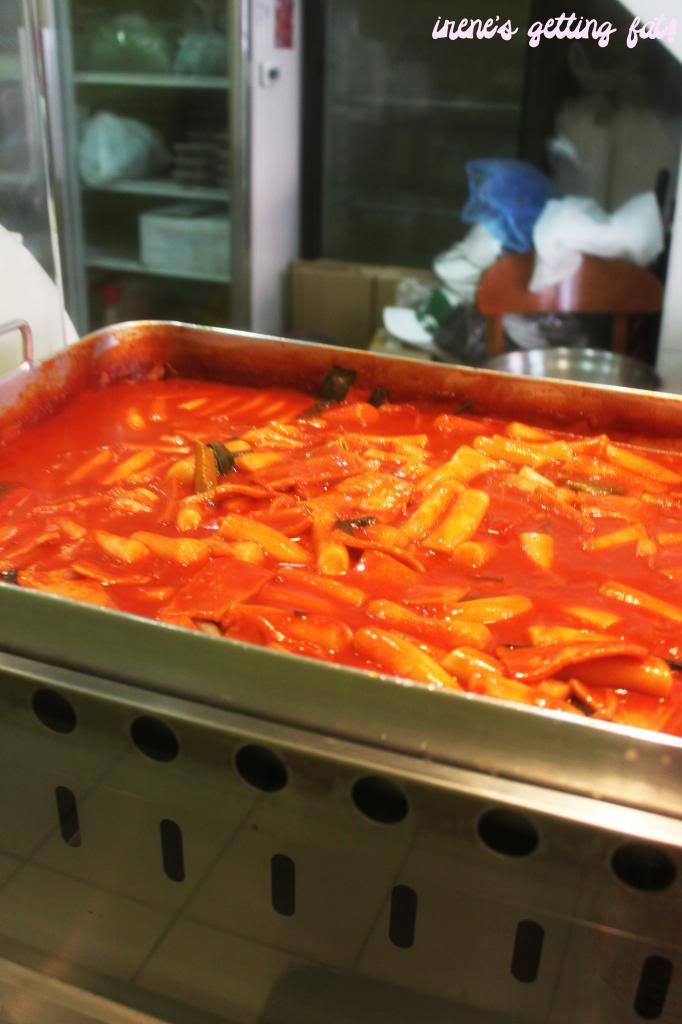 Ddeokbokki (rice cakes in spicy sauce)
Kimbap
was invented in a small fishing village in Korea, because there was a shortage of fish so they created an easy, cheap meal. I'm so glad it happened because
Kimbap
is one of my favourite Korean snack ever. I really enjoyed this small bowl of
ddeokbokki
and a slice of
kimbap
, and I wished there was more. The rice cake logs are slippery and chewy as always, but the sauce is almost breath-taking. It's the spiciest
ddeokbokki
sauce I've had and I heart it. The
kimbap
is also a mean one, there's a thin layer of fragrant herb inside, but I can't really make out what it is.
When we were slurping our rice cakes (with some struggling to put out the heat and finish the whole bowl), Kunja was telling notable stories about how in the olden days noodles are related to marriage in Korea, how rice is actually a substitute for barley and mill rice which is used to be the staple food, and how the youngsters go dating to
ddeokbokki
stall to enjoy the popular snack and some
soju
(Korean beer).
Ddeokbokki and kimba
p
Fifth stop
Plus Living
Before you think that a home ware shop isn't related to a food tour, let me tell you this: it is.
Plus Living
is a complete home ware shop with some of the products being produced here in Australia, but mostly are imported directly from Korea. They sell the cookery and other home equipments that the Korean mothers usually use. Kunja highlighted her favourite Korean-branded items that can be found there, and I finally purchased
samgag kimbap/onigiri shaper
and a
super thin slicer
which have been proven useful for me. Freebies came in the form of a shaping knife that can leave ridges pattern on the sliced item.
Plus Living, Strathfield Plaza
The store
Samgag kimba

p

/onigiri shaper and super thin slicer
Sixth stop
Bassim Korean BBQ Restaurant
It's lunch time! I reckon everyone was hungry by this point and I literally lit up by the words 'we are having Korean BBQ for lunch'.
Bassim specializes in Korean BBQ, and it doesn't disappoint. The restaurant is spacious with dominating wooden furniture. Like usual Korean BBQ restaurant, they have grill on every table, along with the industrial looking smoke catcher. I love how the interior looks like, it's elegant without being overdone.
Bassim, Strathfield
Interior
There were two types of
kimchi
provided: the spicy one and the sweeter one (made minus the chilli). Both taste really nice, but I still prefer the spicy one. Kunja also mentioned that
kimchi
has good effect to our immune system, and it's a side dish which makes appearance is every Korean household for breakfast, lunch, and dinner.
The
sauces
are complete:
ssamjang
(made with fermented soy bean paste and red chilli paste), and chives and soy sauce. These sauces make every bite even unforgettable. The rice given isn't the usual white rice, Bassim plays differently by spoiling us with perfectly cooked red rice.
L: banchan (side dishes); R: the sauces (ssamjang, chives and soy sauce)
Red rice
I'm probably biased because I was hungry at that time, but the BBQ spread is a mindboggling affair. We started with
galbi
(rolled short beef ribs), and it's out of this world. The smell when it's cooking alone is tantalizing; the sizzle when the protein and a bit of fat touches the hot grill, also when the edges start to darken and glisten with its marinade after a few minutes. I pinched a piece with my chopsticks and it still has the pink hue in the middle and has that melts-in-the-mouth perfection.
There were only four prawns included, but it was more than enough for me as it was only the two of us enjoying one grill. The
prawns
are big and juicy, and the
pork galbi
is even better than the beef. While the provided sauce does wonders to every bite, dipping the meat into the soy sauce already makes it very admirable. I must confess, I ate two bowls of rice that day. Whoops.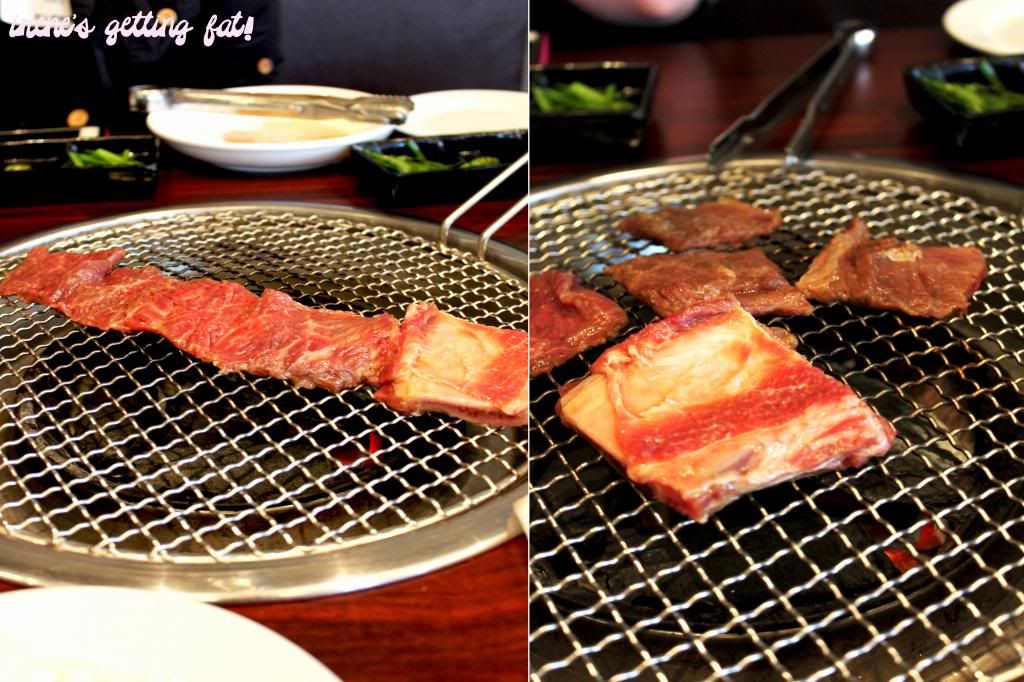 Galbi (short beef rib) on the grill
Prawns and pork galbi on the grill
Here's how to make a perfect
ssam
: lettuce, a bit of rice,
kimchi
, meat, grilled garlic, chives, and topped with
ssamjang
. Wrap everything with the leaf and forget about elegance.
Believe me, you don't want to eat politely with this kind of wrapped heaven on your fingers.
Eating ssam like a Korean
Seventh stop
Hanaro Mart
Now that we've experience the amazing Korean cuisine, where to buy the ingredients when we want to try making it ourselves?
Hanaro Mart holds the answer. Sure, it's not the only Korean groceries in Strathfield, but I gotta say, it's one of the most complete stores.
Hanaro Mart, Strathfield Plaza
Their
products are rather overwhelming. I need another food tour just for this place, to know which sauce does what.
Instant noodles alley
Condiments and sauces alley
Kimchi and cold condiments fridge
Dried seaweed
The ones that got my utmost attention were these tubs of ready use sauces:
doenjang
(fermented soy bean paste),
gochujang
(red chilli paste; used to make
ddeokbokki
),
ssamjang
(awesome sauce eaten in BBQ), and
black bean sauce
(used in
jjangmyeon
or black bean sauce noodles).
The
marinade sauces
can be pretty useful as well, I reckon. They make life easier if you want to do Korean BBQ yourself.
Clockwise from top left: doenjang (fermented soy bean paste), gochujang (red chilli paste), black bean sauce, gochujang (the sauce for BBQ; made from mixing doenjang and gochujang)
K

i

mchi base sauce and spicy dipping sauce
Marinade sauces
Ans guess what, I got a tub of
gochujang
! Look forward for a
ddeokbokki
recipe soon!
Freebies: (clockwise from top left) gochujang, dried seaweed, apple drink, the apple drink box
Last stop
Hello Happy
Our sweet ending was at Hello Happy, one of the most beautiful dessert shops I have ever been. The decorations and the whole shop setting is cute, rustic yet very artistic. This is one unique shop.
Hello Happy, Strathfield
Clockwise from top left: Hello Happy signage, counter, cute toilet sign, bread display
Cakes display
They have lots of picturesque desserts to choose from, but we were there for a healthier treat.
Ginseng ice tea
is something new for me. I'm not usually fond of ginseng's taste, but this beverage tones down the intensity of the ginseng flavour with subtle sweetness. The drink leaves a tolerable trace of the spiciness of ginseng, but it is a really good, healthy concoction.
Ginseng ice tea
I won't say that the
sweet potato cake
is a slice of heaven, but it's close. It has perfect level of sweetness and creaminess, although not much cream used. The sponge cake itself is airy light, and there are some micro chunks of sweet potato.
Sweet potato cake
We concluded the tour with Gangnam style dance off, and also a sweet little morsel: the
meringue puff pastry
. I can gobble 10 of this right away, I say.
Meringue puff pastry

In summary, the tour was such a huge fun. Given the chance (and money), I'll definitely do some more food tours. I got to say I'm also impressed by the tour guides (Tina, Kunja, Zizi; thanks a lot guys!), they definitely know what they are talking about and they're very organized as well. We are even given Tina's

kimchi

fried rice and

ddeokbokki

recipes, how cool is that?

My final words are these: when you are going for a food tour with them, make sure to put on your eating pants. I zipped mine for this tour and it still felt tight at the end of the day.

P.S. There will be

Strathfield Food Festival this Sunday

, focusing on Asian culinary and the Taste Food Tour team will hold a mini food trail on the day! I bet it's a lot of fun, so come!

Currency: $1 = IDR 9,500

Rating:

My Sweet Memory:

4/5 (Recommended) Really cute decoration and interior setting, good coffee selections (and some tasters say that the coffee is nice), recommended salted caramel macaron, service is still attentive although busy, price is affordable.

Rainbow Cakes:

3/5 (Worth the try) Lovely selections of cakes and bread (the sugar donuts with white bean filling is a must try!), service is a little bit quiet but friendly, ambiance is quite cozy, price is affordable.

Matt Zzang:

4/5 (Recommended) Great selections of menu (try the ddeokbokki!), service is completely friendly, price is affordable, ambiance is simple but homey.

Bassim:

4.5/5 (Really recommended) Superb BBQ spread, service is flawless and generous with condiments, ambiance is really nice, price seems reasonable.

Hello Happy:

4/5 (Recommended) Really cute and creative setting, service is flawless, good selections of cakes and bread, price is affordable. Address:
MY SWEET MEMORY


3 and 4 Symond Arcade, 12 Churchill Ave

Strathfield

Sydney

,

NSW

2135
Phone: 04 2524 3166
Web: www.mysweetmemory.com.au
RAINBOW CAKES
2 Churchill Ave Strathfield NSW 2135
Phone: (02) 9746 6570

STRATHFIELD BUTCHERY
18 The Boulevard Rd. Strathfield, NSW 2135
Phone: (02) 9744 7766

MATT ZZANG


Shop 26 The Boulevarde

Strathfield

,

NSW

2135
Phone: (02) 9744 0766

PLUS LIVING


Strathfield Plaza, Strathfield









BASSIM KOREAN BBQ


20 Albert Rd

Strathfield

,

NSW

2135
Phone: (02) 8756 5689

HANARO MART
Shop 16, Strathfield Plaza Strathfield, NSW 2135
Phone: (02) 9746 2422

HELLO HAPPY


22 The Boulevarde

Strathfield

,

NSW

2135
Phone: (02) 9715 6259