New experience is always interesting.
Hot chocolate from Operation Espresso - $3.4 (S)
Liverpool Hospital
got three eating spots that we (read: me and a few good friends) all love.
Operation Espresso Café
The café will be the first thing you spot when you enter from the main entrance. Just a small one, with limited metal stools and tables. It's obvious that the café is popular though, and that's maybe because it's the only place to get caffeine injection in the hospital.
I did try some of the treats they offer there. Their menu is actually quite various, from hot & cold beverages, simple toasts, to wraps and paninis. Their brownie is available in two sizes, full slice or half slice. I wonder why they do that. The
brownie
is great; fudgey and chocolatey, with adequate chocolate chips and icing sugar dusting on top.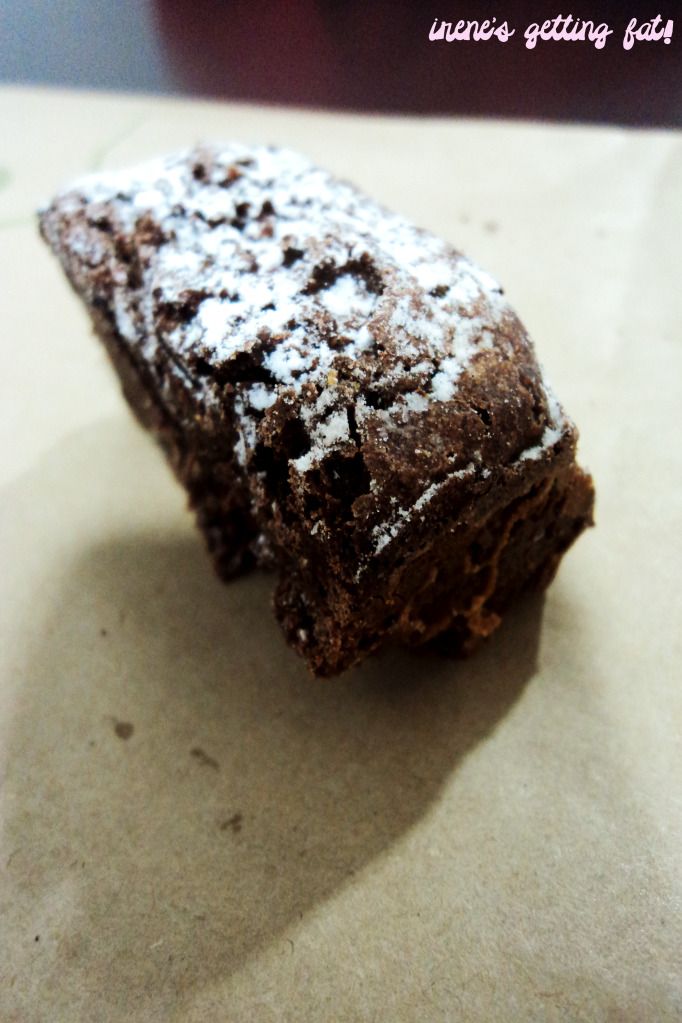 Half-slice brownie - $2.2
To my excitement, they have macarons as well! In limited flavours, though. The
chocolate macaron
is a nice little treat before the shift; the shell is crunchy and the middle is really gooey. It isn't as rich as I hoped, but that's the only negative.
Chocolate macaron - $3
The
pecan tart
is very lovable. The pastry is a bit soggy but it's very buttery and delicious. I've always love pecans and the caramel filling is good although a tad too sweet for me.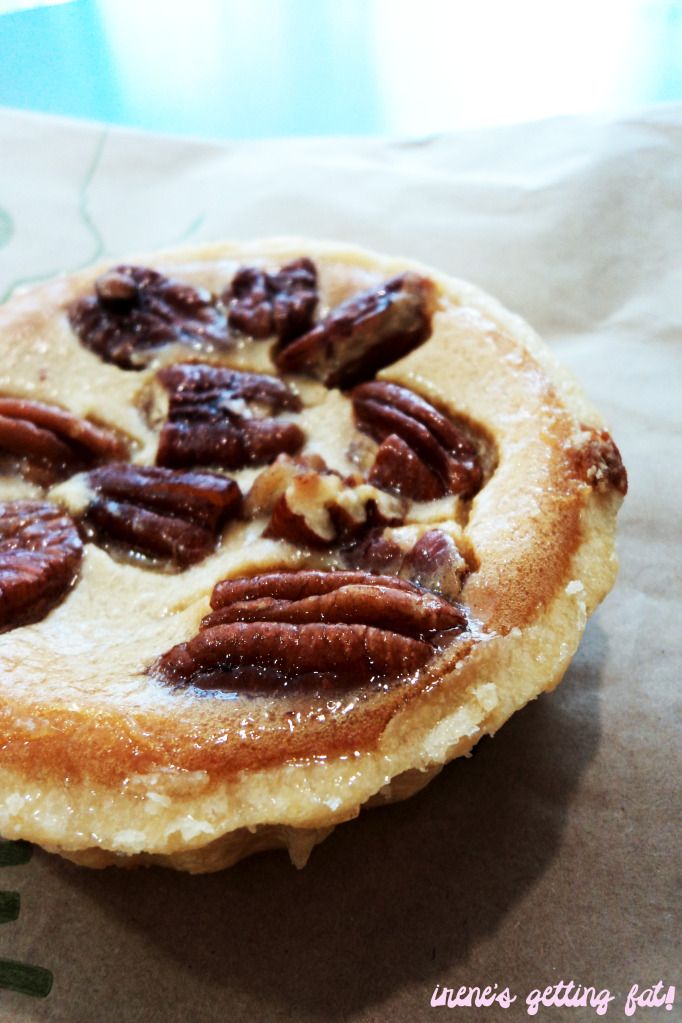 Pecan tart - $4.2
I wanted to try the smoothies but with this windy weather I can't say no to the
hot chocolate
(first pic). It's belly-warming, adequately rich, but I've had better.
The
chai latte
isn't a favourite of mine. I've only tried chai latte once before, and I was hoping that this one can change my skeptic. Unfortunately, it didn't. It's too milky and cinnamon-y to my liking and I also wish the sugar isn't that much given.
Chai latte - $3.4 (S)
Subway
Subway is there to feed hungry and non-adventurous visitors. The sandwich is good as usual, I usually got mine full of salad. The
cookies
are out of this world. Absolutely delicious and with only $1 each, I need a strong will to stop buying them. It's thinner than the usual Subway cookie but with same level of awesomeness.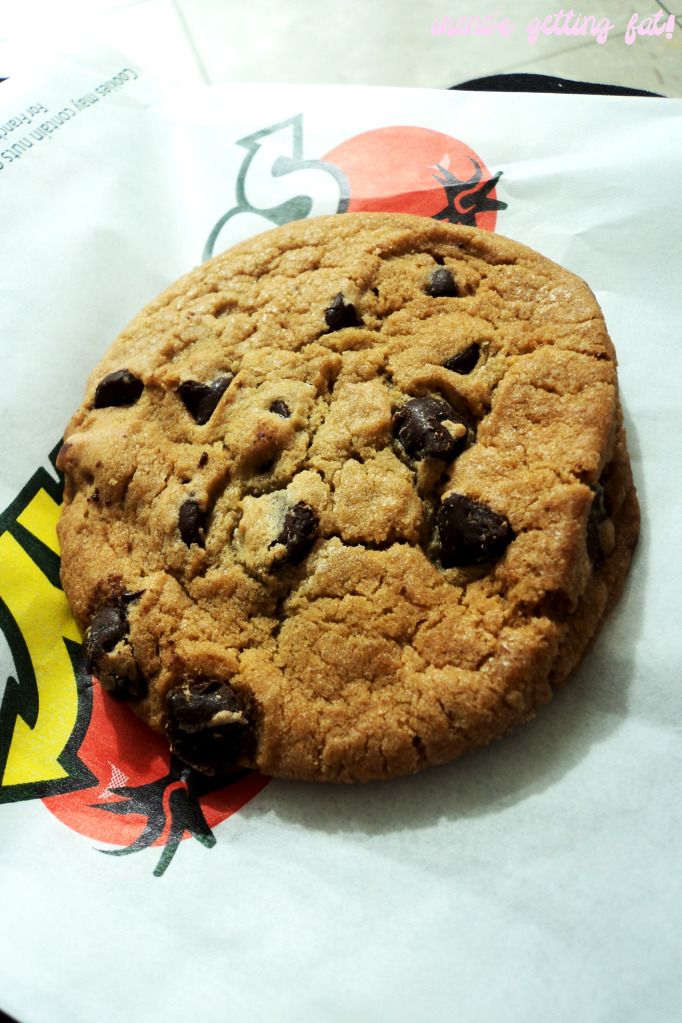 Subway chocolate chips cookie - $1
Food court
By the second day, I was too sleepy to make my dinner at home and decided to get some substantial meal from the food court. The amazing thing is that I got the staff price, so much cheaper than the visitor price.
They have everything in the food court. Hot food, cold food, desserts, bottled drinks, hot drinks, snacks, bread, etc.The hot food station holds different menus everyday, so it's really exciting to go there without being able to guess what's on the menu on that night.
The first meal was
sweet and sour pork on rice
. It's a bit bland, but sachets of salt and pepper are to the rescue. The meal is warming and building more energy that I need, although I kinda hoped for crunchy, Chinese-style sweet and sour pork instead of the braised-style like this. The perfect beverage is of course the
hot chocolate
, which is better than the one I got from the café. I don't think I put too much chocolate powder on top.
Sweet and sour pork on rice ($6.95) and hot chocolate ($2.3)
The friend had
chicken kiev
(yay I know the name correctly now). It's basically deep fried chicken, with some garlicky and curry-like gravy inside. Interesting and tasty.
Chicken kiev - $3-4
Fish & chips with gravy
is sure full of sodium, but it's one tasty meal. The chips are fat, crunchy, and smothered with tasty gravy, but the fish has slight fishy aroma which I don't fancy (hey it rhymes!). The meal is great for sharing though.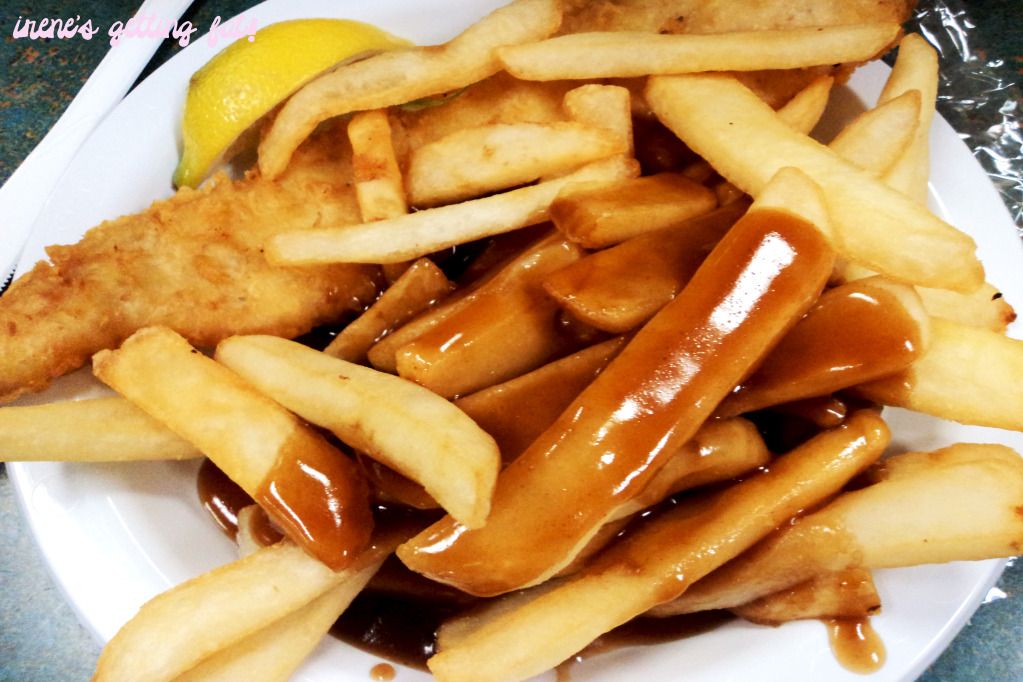 Fish & chips with gravy
The last dinner at the hospital involved
chicken satay on rice
, apple juice, and apple pie gelato. The chicken satay is flavorsome although a bit oily. I love how the rice is cooked perfectly, they aren't sticking together or clumpy. There's nothing much to say about the apple juice but the
apple pie gelato
is a winner dessert. It's from Michelangelo Gelato; it's creamy, contains lovely taste of vanilla and apple, and it even has apple cubes in it. So yum.
Chicken satay with rice, apple pie gelato, and apple juice
The photos aren't the best photos I've had, but the experience behind those pics is awesome and priceless. And I'm just so glad to find tasty food in hospital, really.
Currency: $1 = IDR 9,500
Address:
LIVERPOOL HOSPITAL
Cnr Goulburn Street & Elizabeth Street Liverpool NSW 2170
(The three eating spots are located on Level G)