When a great restaurant has a sister, my happiness multiplies.
Ontama beef bowl (M) - $5.90
They are almost like a twin, these two.
Menya Mappen
and
Menya Oiden
is just a few metres apart in the Skyview Plaza, and if you spot one you can't miss the other one.
The popularity is obvious, judging from the crowd queuing at both restaurants' entrances, as both offer delicious varieties of affordable but filling meals.
Top: Menya Oiden, Sky View Plaza, bottom: the menu
While the older sister, Mappen, offers Japanese noodles and
tempura
, Oiden is ready to be admired by its rice bowls and
kushiage
.
Kushiage
is Japanese style deep-fried things on skewers, battered with bread crumbs. One similarity is their
ontama
or soft boiled egg, which cannot be missed. Japanese really know how to cook their eggs, don't they?
The dining scene here is similar with Mappen, the 'eat and go'. There's no time to wander around your table because there are already dozens of people targeting your table with eyes like eagles. The place itself isn't too spacious, but very eye-catching with Japanese posters and wooden tables & chairs.
Clockwise from top left: dining area, interesting decor, posters, free flow tap water
The ordering system is simple. Take your drink from the fridge (optional), order your meal (extra ontama is recommended), take one or more
kushiages
, take cold condiments or
daifuku
for dessert if you fancy, and pay at the cashier where chopped shallots and
tempura
flakes can be taken, with consideration of course. Sauces are available on the tables, and tap water is also free.
The deep-fried heaven is here. The
kushiage
varies from the simple
takoyaki
to the more interesting
tonkatsu
(pork). All deep-fried into perfection, and the options are changed everyday.
Clockwise from top: kushiage selections, the cashier, cold condiment selections
I was so hungry I can't contain my greed to just take one or two
kushiage.
I had
medium ontama beef bowl
with
takoyaki
,
tonkatsu
, and
beef croquette
, along with
kimchi
from the cold condiments fridge.
Ontama beef bowl (M) with kimchi ($1.3) and tonkatsu, takoyaki, and beef croquette
The rice bowl feels homey and comfortable, the beef is tasty and tender, perfectly devoured with some pickled ginger and chopped shallots. The egg isn't as runny as I hoped, but it still has the magical feeling when the yolk is poked. Medium size is more than enough for me, especially with the three crunchy items.
Soft boiled egg on the rice (ontama)
All of them are crunchy and delicious, no oiliness whatsoever. The
takoyaki
is plump, a slice of octopus inside is big enough to be identified. The
beef croquette
is good as well, but this one is the heaviest between the three. The
tonkatsu
is my favourite; tender and juicy pork encased by crunchy bread crumbs jacket.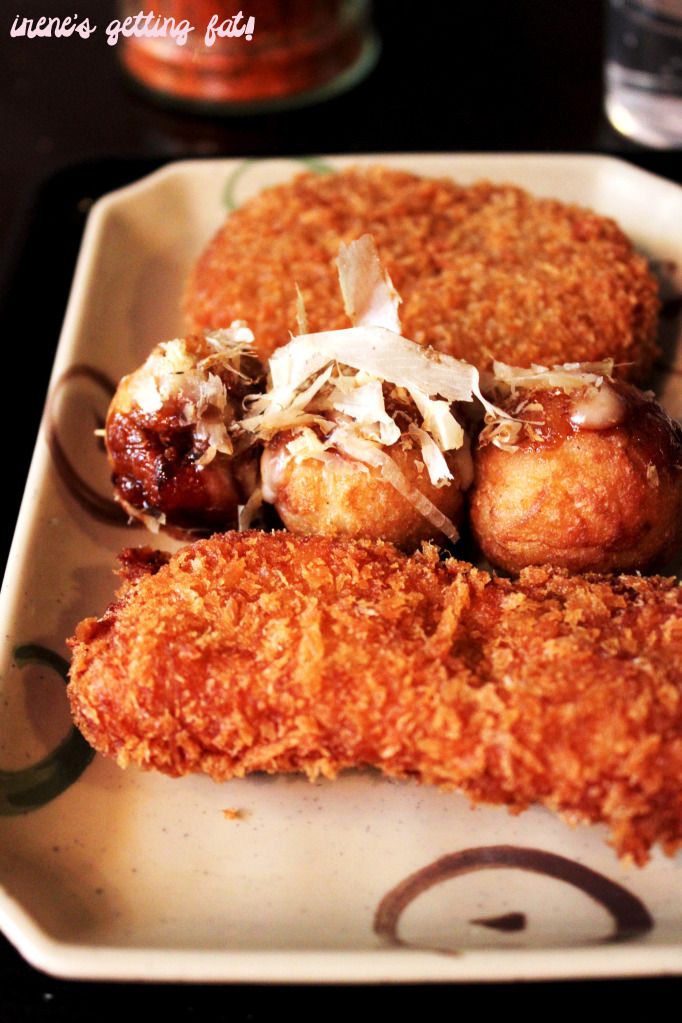 From top to bottom: beef croquette ($2.2), takoyaki ($2) and tonkatsu ($2.5)
I'm enamoured with how perfect they go with the sweet-sour sauce provided. I actually don't mind coming back just for the
kushiages.
Eat ALL the kushiages!
I wasn't ready to go home yet so I loiter around the area. And then I spotted the bright yellow shop in the same street, which I have seen dozens of time but had never been interested enough to give it a try.
Happy Lemon
is Taiwanese another bubble tea joint, and I finally decided to try it to compare with other Taiwanese bubble tea franchises that I have tasted.
The shop is very yellow, so bright and cheerful, and they have unique flavour like cocoa with rock salt cheese. Interesting.
Happy Lemon
I am no friend of milk tea so I, once again, got the fruit tea. It's
kumquat fruit tea with aloe
, although somehow I think I got some kind of jelly too along with the aloe. Maybe complimentary?
Unfortunately, I don't sense any difference. It's pretty much the same as the other fruit teas I have had, although it's really fresh, with nice tang and sweetness. I have always love the smooth pieces of aloe in my drink too.
Kumquat fruit tea (M) ($4.5) with aloe (+ $0.5)

All in all, it was a great eat-out day. It's always nice to discover a cheap eat, especially with those crunchy little things.

Currency: $1 = IDR 9,500

Rating (for Menya Oiden):

4/5 (Recommended) Great rice bowls & lovely kushiage, service is quick, can be considered as cheap eat, ambiance is nice although should leave as soon as we finish the meal. Address:
MENYA OIDEN

537-551 George Street

Sydney

,

NSW

2000 Phone: (02) 9267 1368 Web: www.oiden.com.au
HAPPY LEMON
698 George Street
Sydney, NSW 2000
Phone: (02) 9212 1600