Pork spare rib ramen from Gumshara Ramen
Thick Japanese
ramen
, followed directly by Japanese crepe. I am in my happy place.
First stop was
Gumshara Ramen
in Eating World food court, Haymarket. The food court is typical food court; self-serve condiments and cutlery, rubbish cart going fro, communal seatings, and of course the wide options of food you can choose from.
Eating World food court
But I'm here for the famous, so-called the thickest
ramen
broth in Sydney. I wasn't 100% sure about the place at first, because they don't really show the sign or the name of the place. But I was sure I am at the right place judging from the simple cardboard menu offering traditional Japanese
ramen
.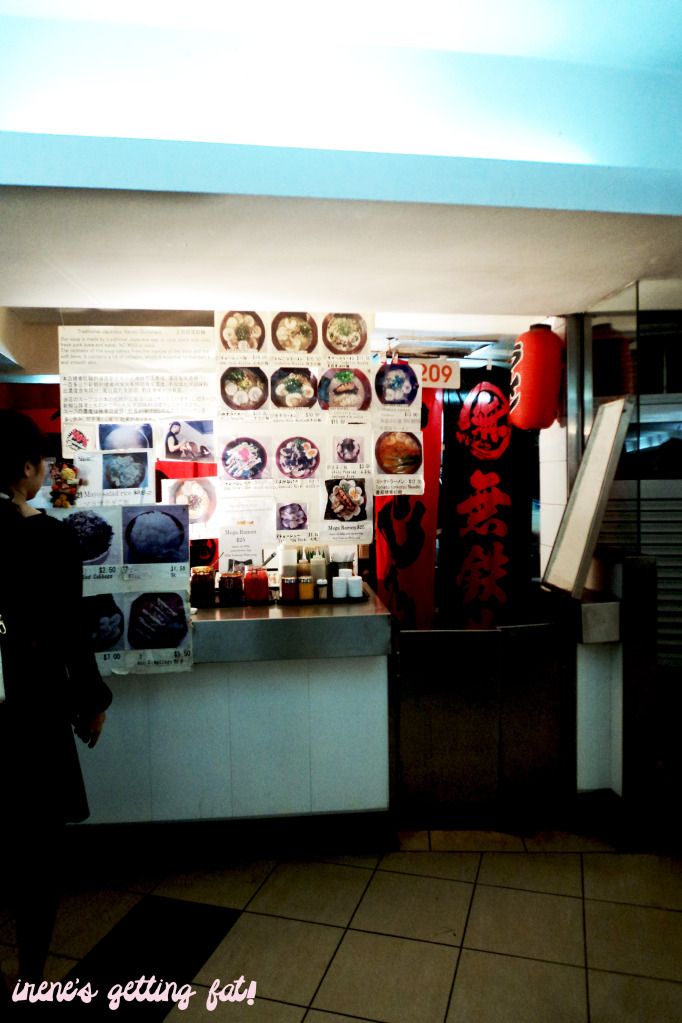 Gumshara Ramen
Their
ramen
is no joke. The
tonkotsu
(pork bone) soup is said to be made with only pork bone and water, without any addition of salt, MSG or sugar. The amount of the pork bone used is 120kg each day, and that's what I call a perfect source of collagen which is really good for your skin.
The thorough and slow process in making the soup yields a really think soup which forms a skin on the very top when savoured slowly. It's has great depth of natural flavour, especially with no MSG present.
Menu and condiments table
I had the
pork spare rib ramen
, which is only produced 10 bowls a day. I went early because I know they won't stay available for long. I also added seasoned soft boiled egg ($1.5) which is a must because it's amazing. From the condiments table I collected some pickled ginger, pickled garlic, and chilli oil; all is great and go perfectly with the
ramen
.
Simply put, the
ramen
is awesome.
Pork spare rib ramen with extra soft boiled egg - $17
Every component ticks the right boxes for me. The noodles are springy, the pork spare rib is seared beautifully; it's crunchy, tasty, has a perfect layer of fat, and goes off the bone very easily, and of course the soup is wickedly thick and so flavorsome; definitely thicker than
Hakata ramen
in Jakarta. And don't even get me started on the egg, it's as amazing as an egg can be.
I failed in finishing the soup; not because I don't respect the chef, but it's so thick!
Clockwise from top left: the ramen noodles, spare rib, finishing the soup: fail, the soft boiled egg
Noting in my head that I have to try another bowl of
ramen
from Gumshara another time, I then made my way to the World Square, going to find some light dessert. I think I've grown my sweet tooth a little bit.
Mother's Crepe
is just a small stand in the World Square, the display of good-looking crepes were staring at me begging to be tried. Who am I to resist such temptation?
Mother's Crepe, World Square
After browsing the display for a while, I finally decided on a popular choice of crepe. It was not a nutella crepe day do I skipped that one.
(Fake) banana brownie ice cream crepe
The real
banana brownie ice cream crepe
isn't really different with the fake one on display. It has everything that are showed: banana, cream, soft serve ice cream, and a slice of brownie.
It has easily won my heart. Everything is so soft, like a pillow of creaminess, except for the banana slices and the brownie. The brownie isn't dodgy as I thought it would be, it's actually a nice slice of brownie. The crepe itself is stretchy and vanilla-y, and the whole triangle of happiness isn't too sweet despite the components combination. Yum!
(Real) banana brownie ice cream crepe - $6.8

I went home with the crepe on my left hand and wide smile on my face. Oh Japanese food, how I love you.

Currency: $1 = IDR 9,500

Rating (for Gumshara Ramen):

4/5 (Recommended)

(

EDIT 14/07/14

) >>

5/5 (Must try) Amazing ramen (the soup is killer), quick service, reasonable price. I have to increase the rating. Gumshara is still unbudging as my fav ramen in town. Address:
GUMSHARA RAMEN


Shop 209, Eating World

25-29 Dixon St

Haymarket

,

NSW

2000
Phone: 04 1025 3180
MOTHER'S CREPE


Shop 9 K5B, World Square Shopping Centre,

680 George St

Sydney

,

NSW

2000
Phone: 04 3393 2662