Winter equals to comfort food.
Baileys hot chocolate
In this kind of weather, I just want to shelter myself in a warm living room, wearing layers of thick clothes and sipping warm drink in some sort. Don't you all feel the same way?
And because it's winter, the recipes of comfort food have appeared everywhere and I just can't close my eyes to them anymore. But as you know, I don't make complicated things. So here are the two things I've made, both guaranteeing warmth and may induce sleepiness after consumption (especially in a warm, comfy couch).
Tomato & mushroom frittata
I've heard one say that frittata is probably one of the easiest dish to make. Just slice and combine whatever you find in the fridge and add egg mixture. Easy peasy.
__________________________________________________________________________
Tomato & mushroom frittata
(with some modifications)
Ingredients:
30g unsalted butter
30ml milk
220g canned sliced mushrooms
200g canned diced tomatoes
6 eggs
3 slices of Singles cheese, plus one for the top
1/2 cup flat-leaf parsley leaves
Method:
Preheat the grill to high.
Melt 20g of the butter in a non-stick frypan over medium heat. Add the canned mushrooms and tomato, and cook, stirring, for 3-4 minutes until tomato is just softened.
Lightly beat eggs with milk in a large bowl. Stir in cheese, parsley, and the mushroom and tomato mixture. Season with salt and pepper.
Melt remaining butter in the frypan over medium-low heat. Add the egg mixture, stir briefly, then cook for 5-6 minutes until golden underneath and nearly set. Place pan under hot grill for 3-4 minutes or until just set and top is golden. Slide onto a board, cut in half.
_________________________________________________________________________
The original recipe says to use fresh tomatoes but I didn't find any in the fridge. And I also didn't have any Swiss mushrooms. Canned food to the rescue. I also didn't use water, I put milk instead. But really, the recipe is really flexible, you can use any tomatoes or mushrooms you fancy.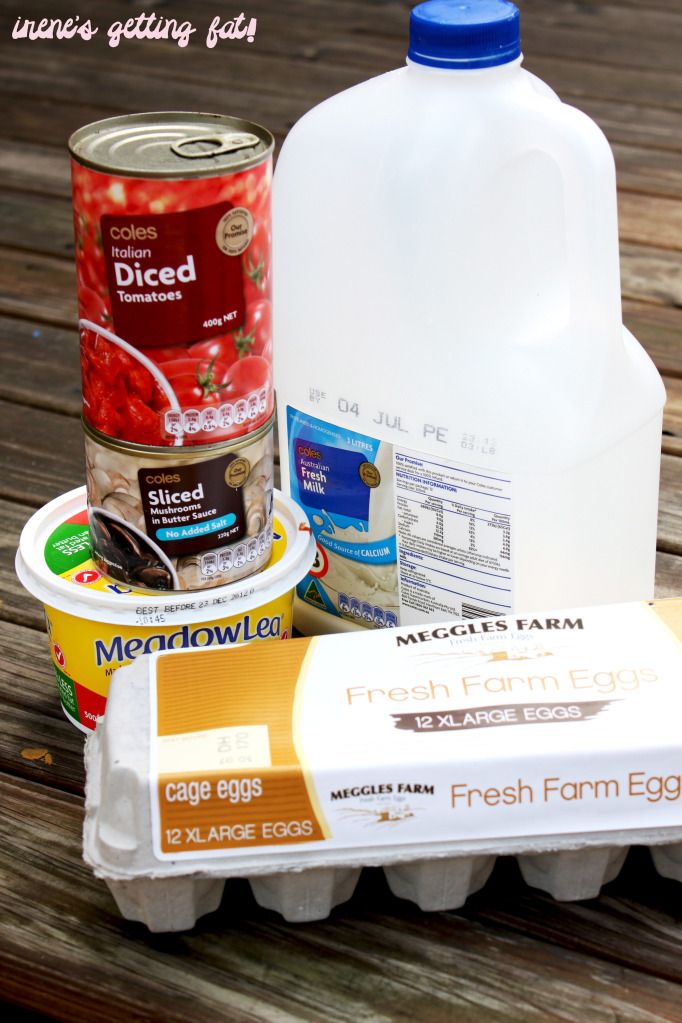 The ingredients (not complete)
The problem is, I didn't know that the canned diced tomatoes has liquid. When I stir-fried the mushroom with the tomatoes, the mixture was really runny and I was worried that it won't set eventhough I had added two more eggs in the mixture.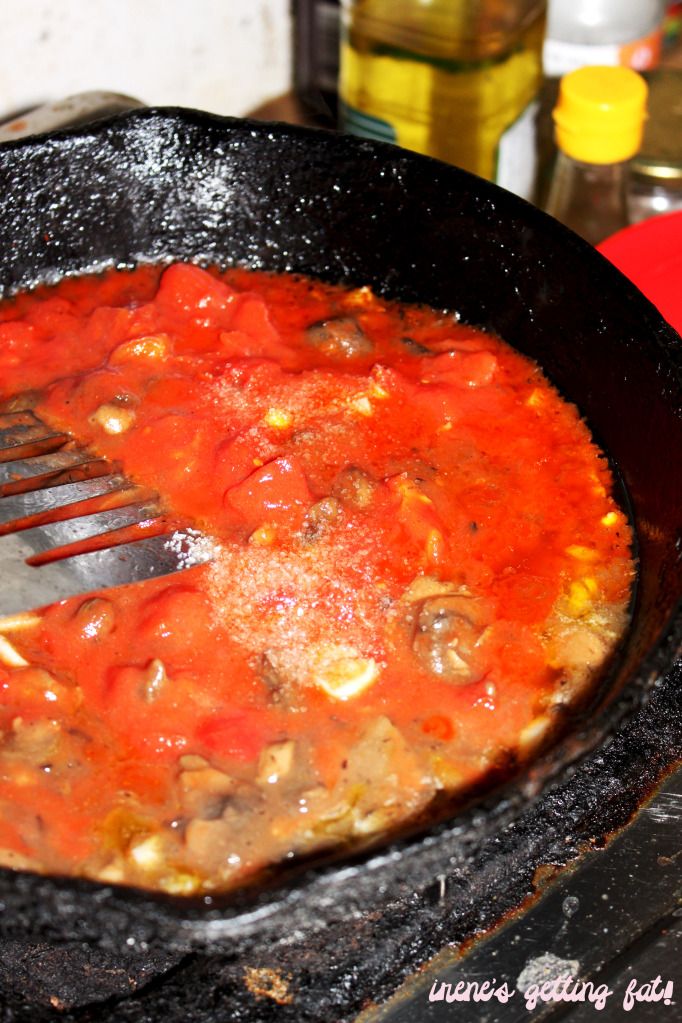 Stir frying mushroom and tomato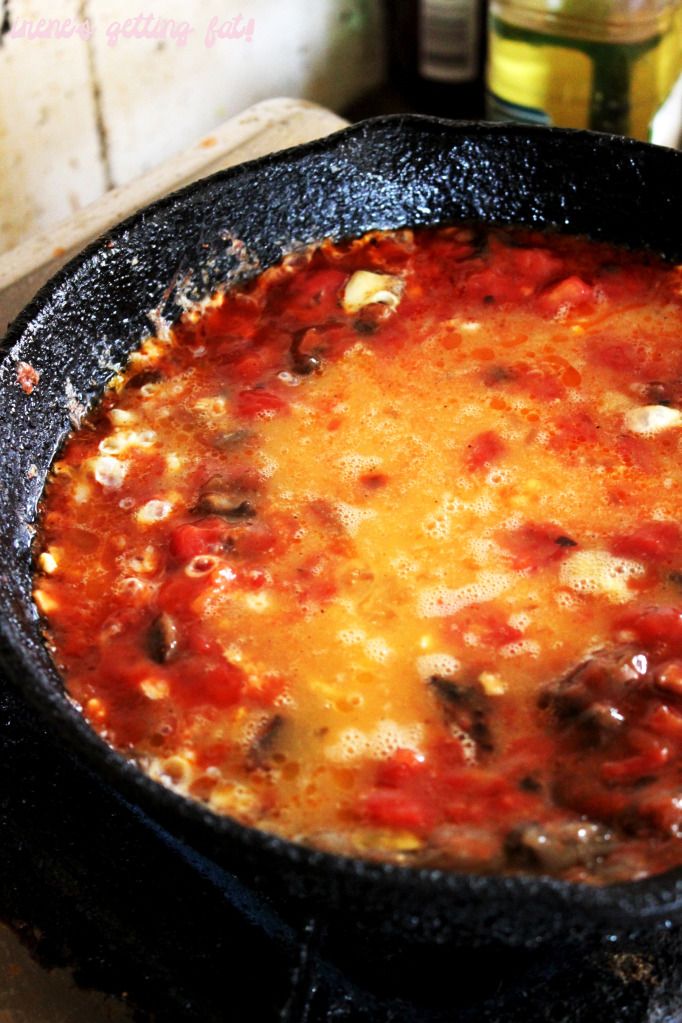 Adding the egg mixture
Thank God it set beautifully. I didn't use grated cheddar, so much trouble, don't you think? I just sliced some Singles cheese and put one more on the very top. Because I am classy like that.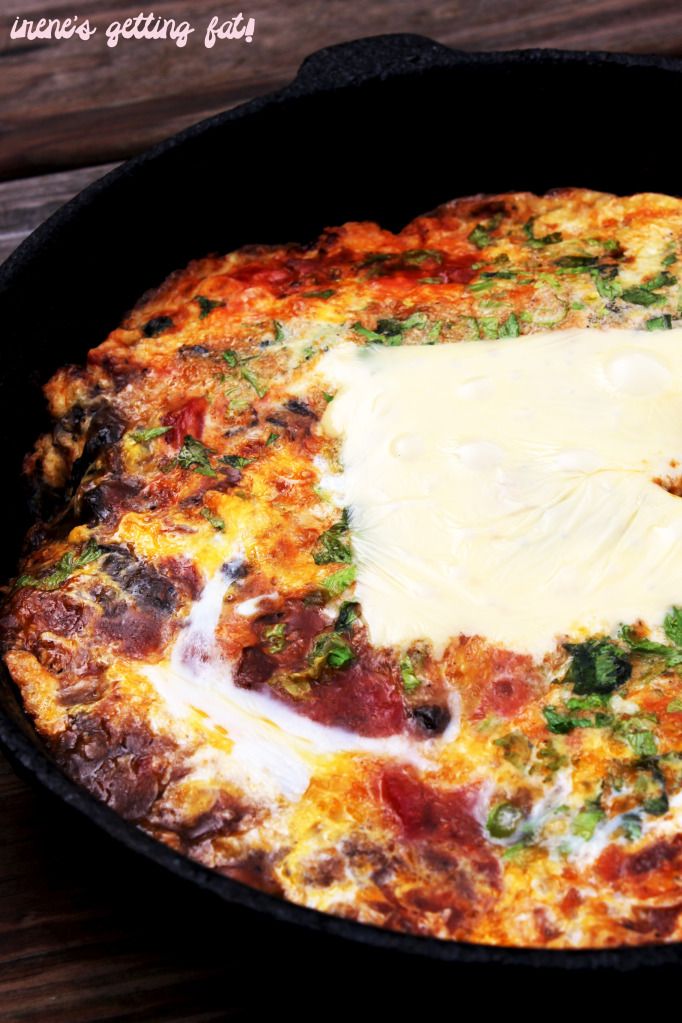 Tomato & mushroom frittata
The result is a great, Winter-type of food. It's fluffy, flavorsome, and don't forget it's healthy as well! The hidden treasure is the juicy mushrooms and the tomato adds adorable sweetness and a bit of tang. Can't believe that canned food can tastes this good.
Inside shot
It's really up to you about how to attack this, but I like to eat it straight from the pan. Just don't burn yourself if you do too.
Baileys hot chocolate
If there's one alcoholic drink that I always adore, it's
Baileys
. The Irish cream is nice drunk on its own, but I reckon it's even better when you add it into your cake batter. There is one 3/4-full bottle of Baileys in the cabinet, but nobody's touching it somehow. Well I won't drink it with ice cubes in this weather, so I improvise.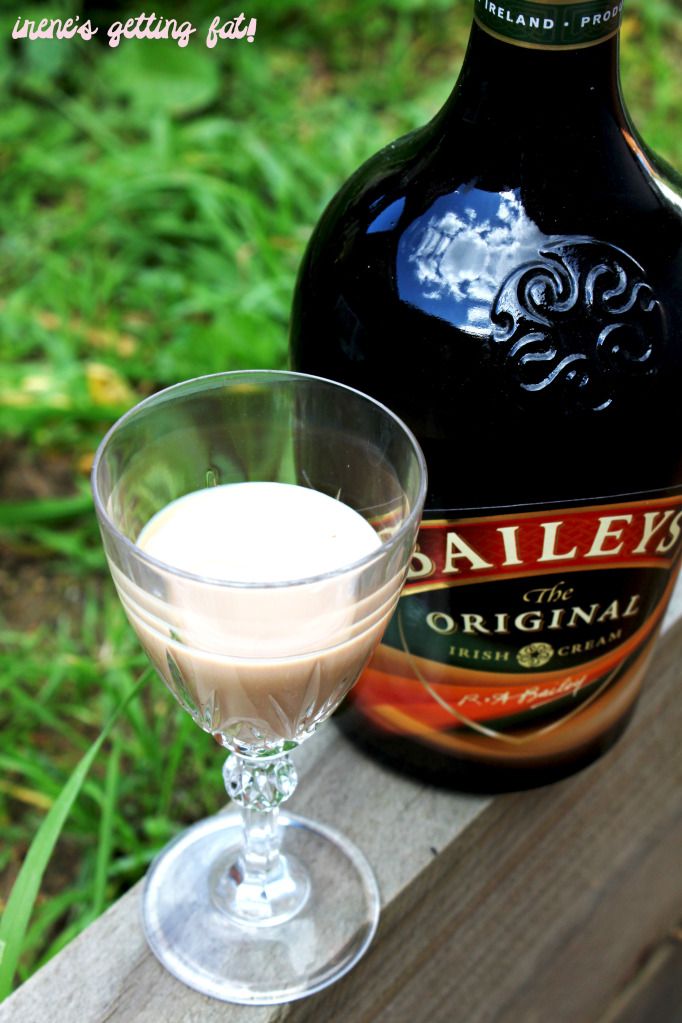 Baileys
Hot chocolate is my ultimate beverage for winter. I ditch cappuccino and go for hot chocolate everytime I go to a coffee shop or cafe. So I thought, maybe spiking it with a bit of Baileys will make it even better? And it did.
___________________________________________________________________________
Baileys hot chocolate
Ingredients:
1 serving each containing 0.67 standard drinks
50 ml of Baileys® Original
300ml milk
25g dark chocolate
AUSTRALIAN DRINK MEASUREMENTS ARE IN STANDARD DRINKS
1 Standard Drink = 10g alcohol
Method:
1. Boil 300ml of milk.
2. Pour half the milk into a jug with 25g of dark chocolate
3. Leave to soften and whisk until smooth
4. Add 50ml of Baileys and the rest of the milk
5. Whisk again
6. Pour in to two heatproof glasses
7. Top with whipped cream and chocolate curls
___________________________________________________________________________
I used any dark chocolate I could find in the fridge, there are so many kinds of chocolates in my fridge, I don't even remember when and why I bought them.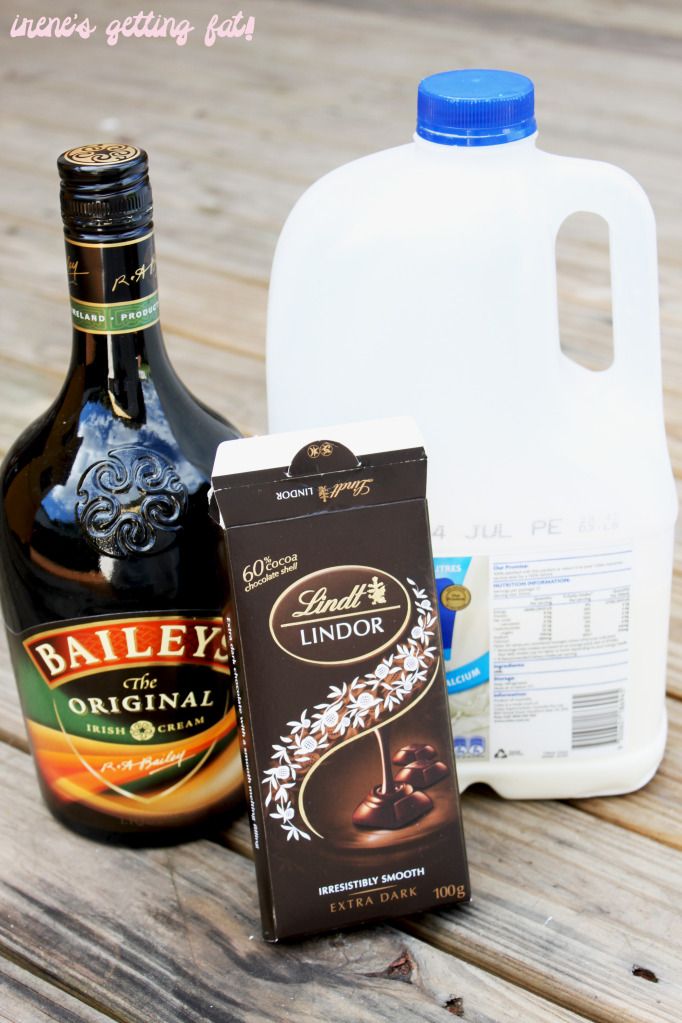 The ingredients
I didn't really stick exactly to the recipe, all done by my amateur intuition. I might have put too many chocolate blocks but who cares.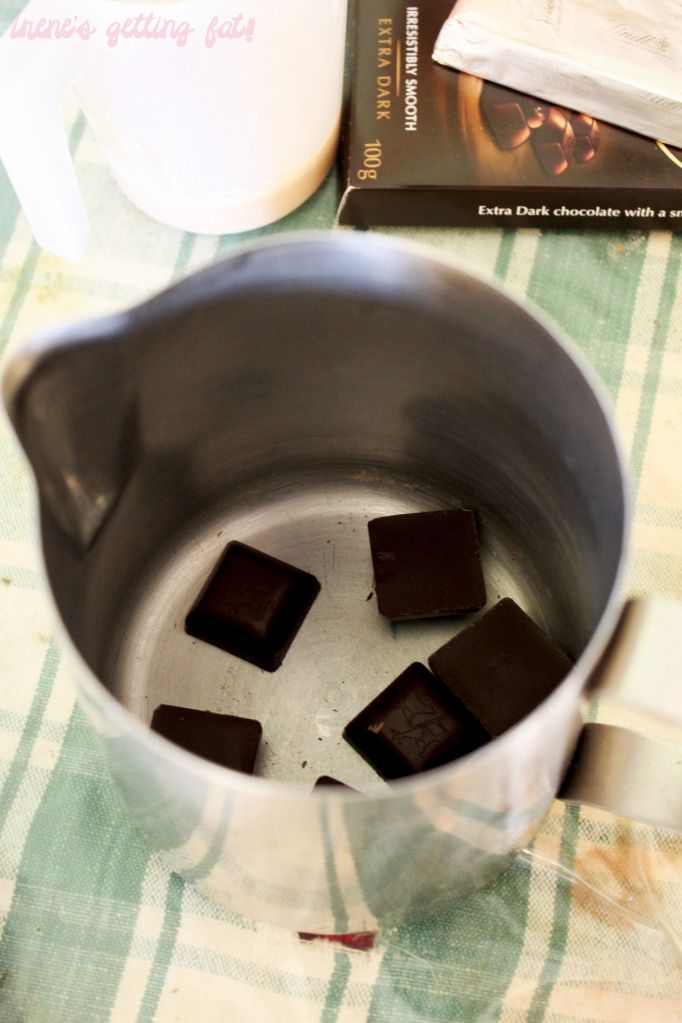 Chocolate blocks in the jug
Warmth. That's the main thing about this glass of lusciousness; it warms your soul.
50ml of Baileys really can put the humble hot chocolate onto another level. Everything works very well; the chocolate isn't too sweet so it's perfect. The Baileys injects delicious alcohol-tinged creaminess into the glass. Just don't put too much Baileys or it'll ruin and overwhelm everything.
And yes, please drink responsibly.
Baileys hot chocolate
These are just two of the simplest comfort food recipes that I can find, I'm sure that you'll find heaps more. So get up from the couch and make something that will brighten the cold nights! And it's weekend also, yay!
Cheers!