Forget rainbow cakes, get some brownies.
Fare Gourmet's brownies
Really, I would pick a brownie instead of a slice of the colourful yet suspicious cake anytime. Moreover, brownies have been one of my fav cakes of all time.
I am assuming that most of you have tried at least one bite of brownie. Well, if you haven't, it's your loss.
Brownie
is popularized initially in United States at the end of nineteenth century. It's called a cake, but the texture somehow is the crossing of a cake and a cookie. It can be crumby and cakey or moist and fudgey. You may find ones combined with nuts, chocolate chips, or dried fruits, and some say the best way to eat a brownie is to pair it with tea/coffee/ice cream/whipped cream.
For me, I prefer the moist and fudgey brownie. I don't mind eating it without any pairing but I will be perfectly happy if it comes with a scoop of ice cream. So here's a list of 6 brownies I have tried in Sydney. More to come, of course.
1.
My Cuppa's brownie
Shop 3 and 4/ 769 Harris St Ultimo NSW 2007 (Phone: (02) 9212 5416)
I didn't quite enjoy this one. It has more like a cake fragrance instead of the rich, chocolatey aroma that a brownie usually gives. This one's crumbly, and a layer of chocolate on top makes the bar to be beyond sweet.
My Cuppa's brownie - $3.8
2.
Café 10's brownie
235 Jones Street, Ultimo (inside Aerial Function Centre) (Phone: (02) 9514 4764)
This one's much better than the first one. It has some cracks on the top, which makes a brownie so sexy. It's moist, adequately fudgey, and has perfect level of sweetness. I always love the addition of nuts inside and I am guessing that they're pecans
in this one.
Café 10's brownie - $3-4 (?)
3.
Concourse Café's brownie
UTS Tower Building, Level 3,
15 Broadway, Ultimo, NSW 2007
The top is quite crunchy, the pecans are given generously. Perfect level of sweetness and so moist. Love this one so much, such an incredible brownie.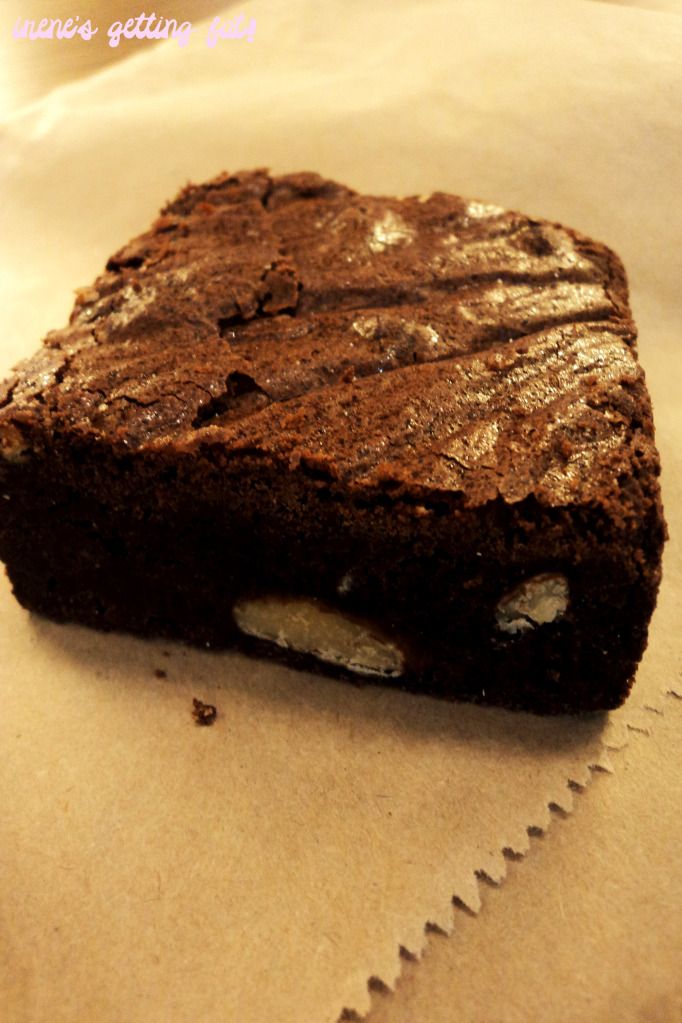 Concourse Café's brownie - $4.3
4.
Operation Espresso's brownie
Liverpool Hospital Level G,
Cnr Goulburn Street & Elizabeth Street Liverpool NSW 2170
You may remember this from
my previous post
. Like I said, it's great; fudgey and chocolatey, with adequate chocolate chips and icing sugar dusting on top. There's nothing to rave about, though.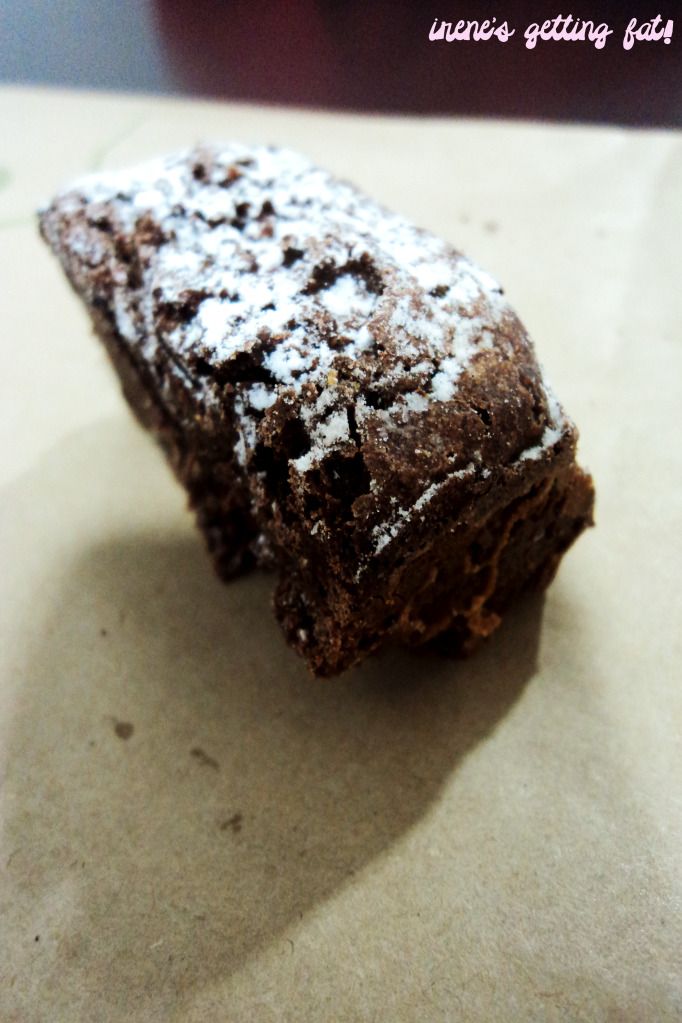 Operation Espresso half-sliced brownie - $2.2
5.
La Cour Patisserie's brownie
Web: www.lacourpatisserie.com.au
This one I get from Sydney's Good Food and Wine Show 2012 (post coming soon). It gets perfect points on every sectors. The texture is the crossing of crumbly and fudgey, which is fine for me. It has chocolate chips, but that doesn't make this slice of happiness to be too sweet. So chocolatey, perfect with a cup of warm milk. Or maybe hot chocolate. I got the baking kit to make the brownie as well, I'll make it and hopefully it'll turn out great.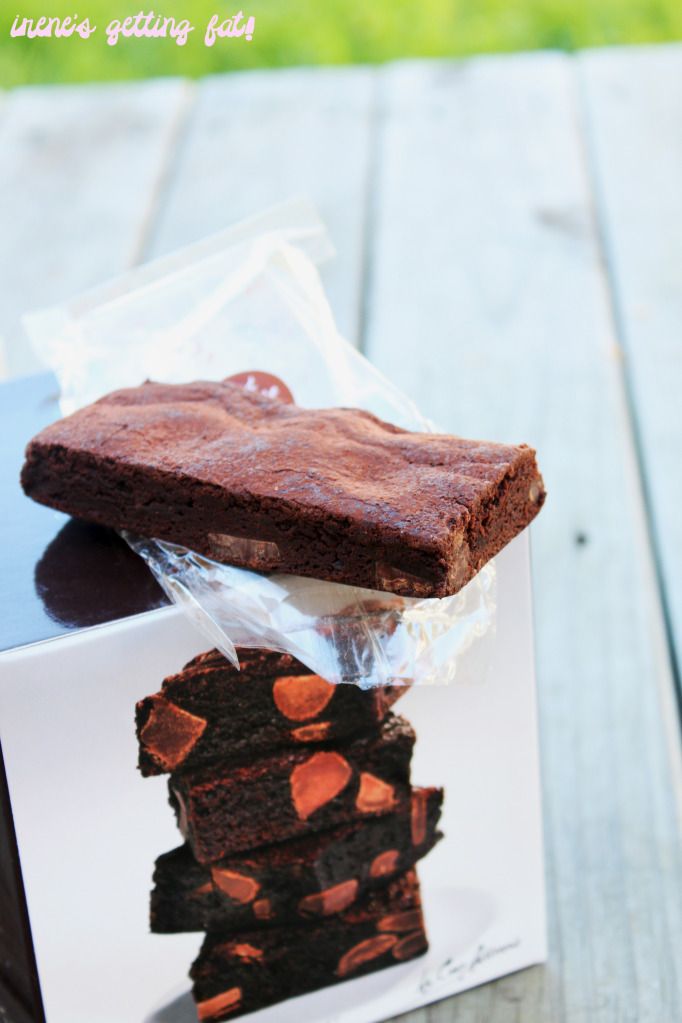 La Cour Patisserie's brownie (Midnight Chocolate) - $5
6.
Fare Gourmet's brownie
Web:
www.faregourmet.com
This brownie is the ultimate one. Super. Extraordinary. Monumental. Whatever you want to call it. This is my favourite brownie so far and you may have noticed that I rave about Fare Gourmet's brownies in
my previous post
.
This brownie is so soft and fudgey and chocolatey, you won't believe that you are eating a slice of brownie. It's kinda like eating soft chocolate bar. No joke. I've tried the blackforest and white chocolate & macadamia brownies, but my preference goes to the later. The blackforest has dried cheeries inside which I believe have been soaked in some kind of liquor. The white chocolate & macadamia is incredible, I love the nuttiness and the creaminess of the so-called 'candle nuts'. Anyway, if you want to eat them in firmer shape, just put them overnight in the fridge and they'll be even more awesome. That is, if you can resist the urge to eat it right away.
Fare Gourmet's blackforest brownie - $8 (250 gr)
I am still on my pursuit of happiness here, and when I say happiness it means good brownies. So do tell me if you know some killer brownies, and share what kind of brownie do you like? Crumbly? Fudged? With nuts/fruits? Anyway, for now, my fav is still the Fare Gourmet's.
So, ditch the rainbow cakes already (especially for the people of Indo)!
Cheers!
Currency: $1 = IDR 9,500