Korean food has never failed to impress me.
Kimchi at Se Jong, Campsie
Plus, I have been infected with the Korean drama virus, which makes me even more curious about the food I saw on the episodes.
So it's the big family gathering time, and we waited for our table at
Se Jong
. The Korean buffet restaurant is tucked among residential buildings, and it's probably easy to miss it if you're not really looking. When we were there at about 12 p.m., there are no tables available, not even for two. Strangely enough, I noticed that they have outdoor seatings too but they said they can't be occupied.
Se Jong BBQ Buffet, Campsie
When we finally went in, we knew they aren't kidding when they said they are full. The tables and chairs are wooden, and on every table there's a BBQ pan. I was quietly hoping we are gonna have the BBQ but the aunt said it takes a long time for the BBQ pan to heat up. Well, next time.
We have to pay before taking a seat. It's
$14
for lunch time (adult), and I think it's a great price, especially with the food you're gonna see soon.
[EDIT: 21/07/12]
But there's a steep difference for the dinner price, which is
$29
for an adult. I wonder why, they must have something special at dinner time, then?
There's a faint canteen vibe in that place. You know, when you take your food from the stations and bring your tray (or plates, in this case) to your table. It's familiar, warm, and enjoyable.
Full house dining and the logo
The buffet selections
There aren't really many available, to be honest. There are only 5 stations in total; cold food, hot food, rice & soup, salad &
kimchi
, and coffee & fruit stations. They are, however, more than enough for me.
Almost all food is served in metal bainmarie, except for the rice & soup which are served in black cauldrons. The cold food station also offers simple appetizers, the
garlic bread
and some kind of fried pork dumpling. Both are nice, but there isn't any special point given.
Garlic bread
The
cold food station
contains
jap chae
, sliced pork with gingery flavour, salad with croutons, and boiled mussels & prawns.
Cold food
The
hot food station
is dominated with red colour, I wonder if most of them are cooked with the Korean red sauce which I see frequently on the telly.
They have stir fried chicken, pork cooked in red sauce, seafood cooked n red sauce, and a beef dish that tastes like beef
yakiniku
. They also have tofu and rice flour (?) in gravy.
Hot food
The
salad and kimchi
are served cold obviously, along with fresh lettuce (and other kind of leaves), sliced garlic and sliced green chillies. Any idea what will I make with those?
Salad and kimchi selections
The highlights
So here are the food that have easily become my favourite. These are very lovable, and there's no way you can miss them if you visit Se Jong.
Jap chae
(sweet potato noodles mixed with various vegetables and sliced beef, seasoned with soy sauce and sesame oil) is a must. It is served cold, but that is the best jap chae I've had so far. The noodles are slippery and they have this admirable bouncy texture, mixed evenly with the vegetables and sliced beef. It's sweet and savoury at the same time, can't have enough of it.
Jap chae (sweet potato noodles)
This is a crappy picture of
jjajangmyun
, but there's nothing crappy about it. In fact, the slippery noodles and the tasty black bean sauce is so delectable, it has made me swoon with glee.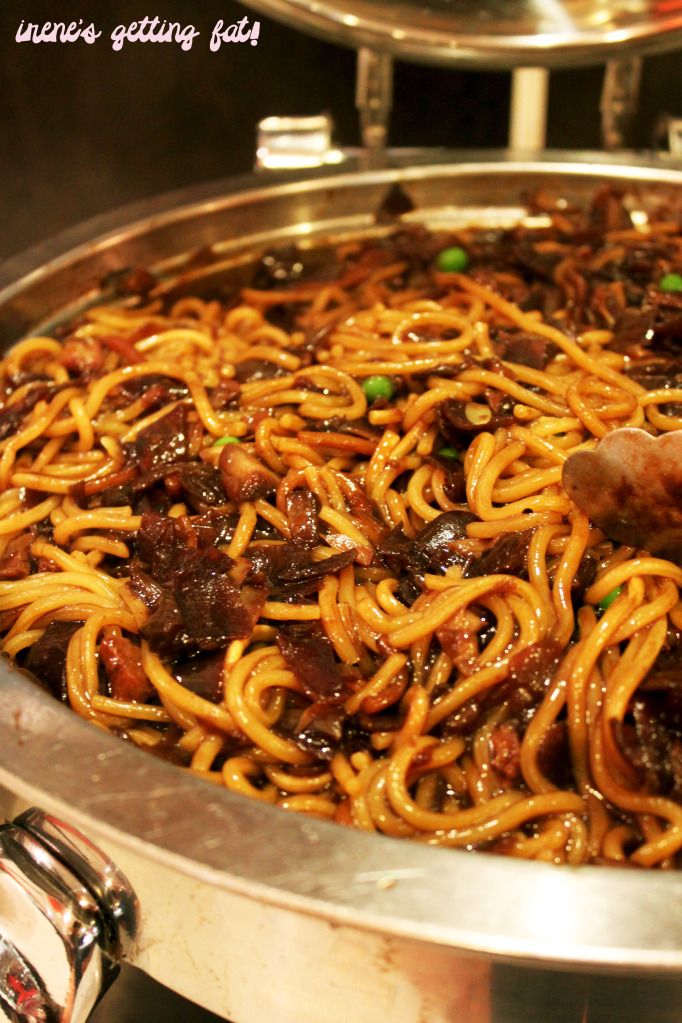 Jjajangmyun (black bean noodles)
I don't know the real name because the sign above the platter only reveals that this is a pork dish. Well, it's one of the tastiest pork dish I ever had. The
pork cooked in red sauce
is dead set delicious, the sliced pork is super tender and the sauce is sweet and sour. There's a thin, melting layer on the very top, which I am not sure what it is. But who cares, I'm tucking in.
Pork cooked in red sauce
This is the brightest of them all. This is what I ate repeatedly like a hungry hyena.
Korean fried wings
is our table's favourite dish of the day. We reckon it's double fried, or maybe triple fried, because the battered wings are so crunchy you can hear the crunch on every bite. The chicken flesh inside the crunchy jacket is flavorsome, and the sauce coating all parts of the pretty little things is sweet and sticky.
Korean fried drumstick
The
kim chi
(Korean fermented cabbage) is also a stand out for me. It's not as spicy as I expected, or maybe it has been adjusted to suit Westerner's tongues? Anyway, it has great flavour, perfect balance of sourness and saltiness. I don't mind eating it everyday with my rice.
My plates
I can't believe I ate that much. Please don't judge me.
My
first plate
is a cold one. I took everything from the cold food section and a garlic bread. My fav is obviously the
jap chae
, but the salad with croutons is fresh and I love the crunchy little cubes of crouton. The boiled mussels and prawns are quite plump and have lovely sweetness.
First helping
My
second plate
carries mostly hot food. It has
jjangmyun
, fried drumstick, fried pork dumpling, pork in red sauce, and some
kim chi.
Awesomeness overload.
Second helping
My
third plate
is the healthiest; I picked some fresh leaves, sliced garlic, sliced chillies, along with the beef, chicken, seafood, and pork from the hot food section.
I ate them the way we use to eat Koren BBQ beef. Wrap the proteins in the leaves, put sliced garlic & chilli, and finally smear some
tauco
(fermented soy bean paste) sauce taken from the condiments table for good measure. Wrap (doesn't necessarily need to be neat) them all and rejoice in its delicacy.
Third helping
They don't really offer many options for dessert, there's only tubs of vanilla ice cream in the fridge. It's not a good brand of ice cream either, so we improvise. We get some scoops of the ice cream and we made our coffee.
Affogato
is ready. Well, it's not really
affogato
, but you get the idea right? The coffee makes the ice cream even better. Simple, sweet ending of such a feast.
Vanilla ice cream + coffee
After the epic lunch, I was feeling full but it's the kind of feeling full which won't make you feel guitly, do you know what I mean? Maybe that's because the food is healthier, I ate lots of veggies for sure.
Anyway, I reckon I'll make my way back here in the future and enjoy another Korean feast. Or maybe I'll try the BBQ next time. But one thing for sure, you're gonna need the power of a god to resist those fried drumsticks.
[EDIT: 21/07/12]
Oh, here's another pic of the fried wings. Just because I love them so much.
Korean fried wings

Currency: $1 = IDR 9,500

Rating:

4/5 (Recommended) Not many options but most of the food are great, service is efficient, price is reasonable especially if you have bottomless stomach, ambiance is nice. Address:
SE JONG KOREAN BBQ BUFFET


Shop 1, 8 London St

Campsie

,

NSW

2194
Phone: (02) 9787 7126