One doesn't simply refuse a cookie.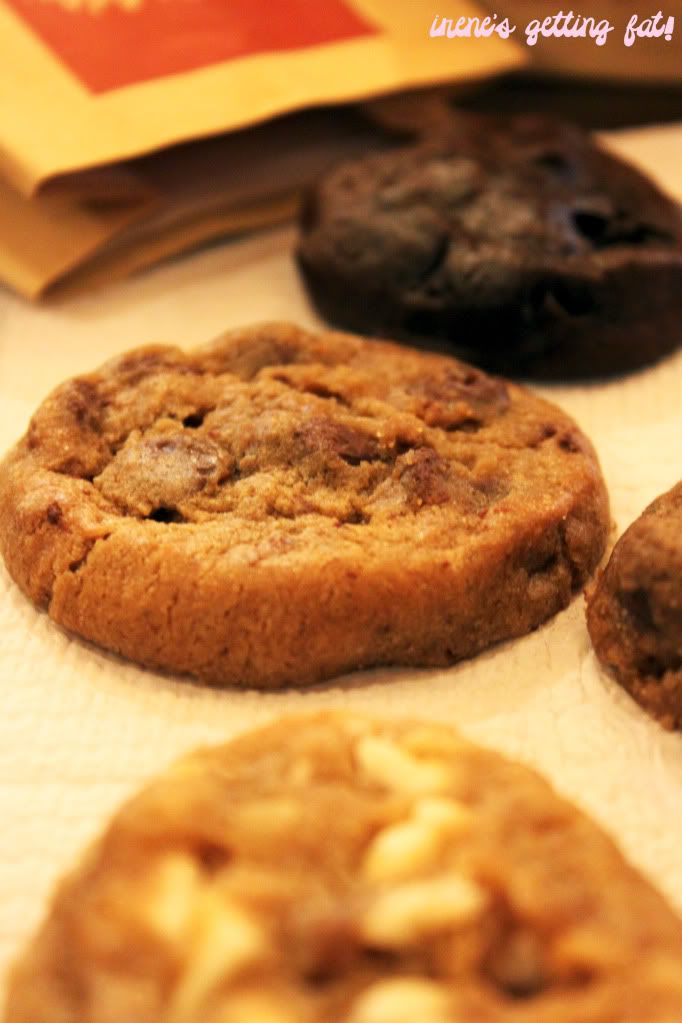 Mrs. Fields cookies
Especially when it's discounted to almost half the original price. Plus, it's the infamous Mrs. Fields's. No, you do not simply refuse this.
Mrs. Fields cookies selling was started in 1977, in the USA. In 2011, they finally expanded their franchise to Indonesia, and I am so grateful for that.
When the second phase of Summarecon Mall Serpong (SMS) was built,
Mrs. Fields
cookies and coffee store is also in the line-up of interesting restaurants and eateries in the mall. The place is actually a cafe, with various menu of coffee and pastries in offer. It is cozy and spacious, using red sofa and wooden tables.
It was almost CNY when I went there, hence the red and CNY decorations. As you may have noticed, it's the big
"IDR 5,000 cookie for today only"
banner that lured me there. With a normal price of IDR 9,000 for one ($0.95 ea), I won't miss this one-day chance.
Clockwise from top left: Mrs. Fields store, interior and seating, goodie bags, promo of the day
As the queue at the counter is still chaotic, I went inside and checked out their brownies display. All look delicious and moist (really they look moist). I intended to try their coffee but the family was waiting so I didn't. Maybe next time.
Brownies display, sample cookies
They provided sliced cookies as sample, to show people how amazing their chewy cookies are. I might have taken too many of that sample cookies.
The cookies displays are even more dangerously tempting, varies from the nibblers (mini cookies) to the cake cookies (cookies decorated like a cake). I truly believe I can finish that tray of nibblers in one sitting.
Mini cookies display
My fav display part is this one. The cookies of this part are the original ones and mostly use chocolate as one of the ingredients.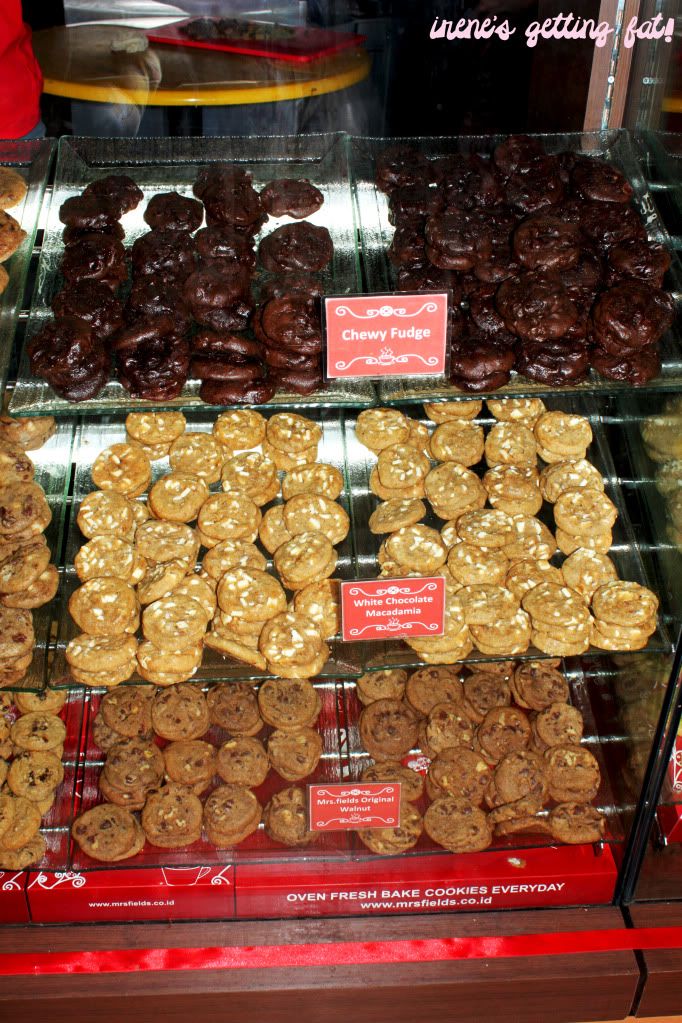 Cookies: chewy fudge, white chocolate macadamia, Mrs. Fields original walnut
This part is for the other cookies. Ones with sprinkles, M&Ms, green tea, durian (which smell good and robust), and cheese. The cheese cookies got my attention. I had never had cheese cookies before.
Cookies: rainbow, durian, smiley, green tea, cheesylicious
As much as I want to have one each, my full stomach failed to bring out the second one. In the end, I was content to settle with five different cookies. They are:
chewy fudge, Mrs. Fields original chocolate chips, milk chocolate macadamia, white chocolate macadamia,
and
cheesylicious
.
Purchased cookies
The cookies are soft and chewy, almost cake-like. When the mother half-complained about that, the waitress said that these are cookies, not biscuits. I, personally, can't be delightful enough to have chewy cookies.
The four chocolate-included cookies have generous nubbins of chocolate, and all have perfect level of sweetness. Some chocolate chunks are half-melted, adding more bliss into the cookies.
My fav would be the ones with macadamia nuts;
milk chocolate macadamia
and
white chocolate macadamia
. In addition to the generous chunks of chocolate, the macadamia chunks add slight crunchiness and nuttiness, which is heavenly. The white chocolate macadamia is slightly sweeter than the milk chocolate macadamia, and has a cinnamon-like aftertaste.
Chewy fudge
is very chocolatey, but not overly sweet at all. The
original chocolate chips
is also out of this world, chewy with melted chocolate chunks. My least fav of the five would be the
cheesylicious
, it just doesn't hit the right notes for me. The only cheese is the one on top of the cookies, and nothing more inside. Instead of salty, the cookies is sweet and has cinnamon-like scent and taste.
From top-bottom: chewy fudge, Mrs. Fields original chocolate chip, milk chocolate macadamia, white chocolate macadamia, cheesylicious
Overall, I think Mrs. Fields chocolate cookies are ones of the best I've had. And I know this place is not really a restaurant, but I'll give a rating anyway.
Rating:
4.5/5 (Very recommended)
The cookies are sensational, but the price tag is kinda too high (if not discounted). The cafe is great and cozy, service is very helpful.
Address:
MRS. FIELDS COOKIES AND COFFEE
Summarecon Mall Serpong, Ground Floor Unit 239-240
Jl. Boulevard Gading Serpong
Tangerang 15810
Phone: (021) 2931-0389
Website (complete info): Mrs. Fields