I had been

wishing

to try their beggar chicken.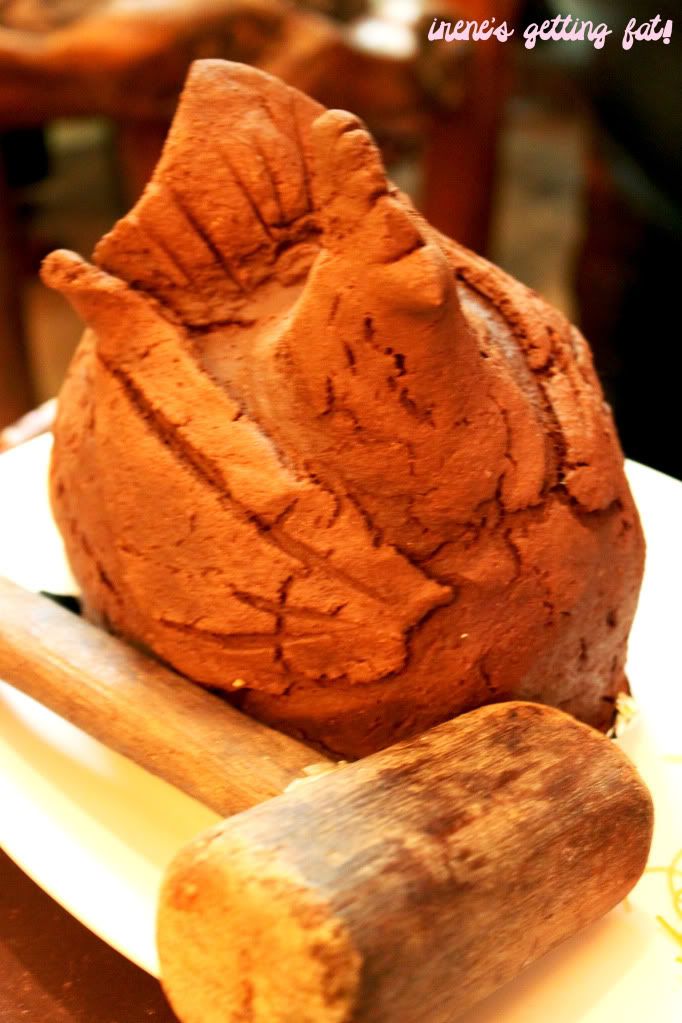 The beggar chicken
You may have heard the name before, as the beggar chicken from
Chicken Village
is quite well-known.
It was just a few days in the start of 2012, and the uncle invited us to a dinner here. Chicken Village is the first restaurant you may notice when you are walking down the Downtown Walk at Summarecon Mal Serpong (the first mall). It is eye-catching, indeed, with bright red walls and crafted-wood chairs and wooden tables.
Chicken Village, SMS
The chairs are really an interesting point, they look like they are made of crafted woods, so the shape isn't always neat or symmetrical. The 'village' theme has been executed fairly well, with all those wooden furniture and old-looking menu book. When I was there, Chinese decorations had been brought out, as it was a few weeks to CNY.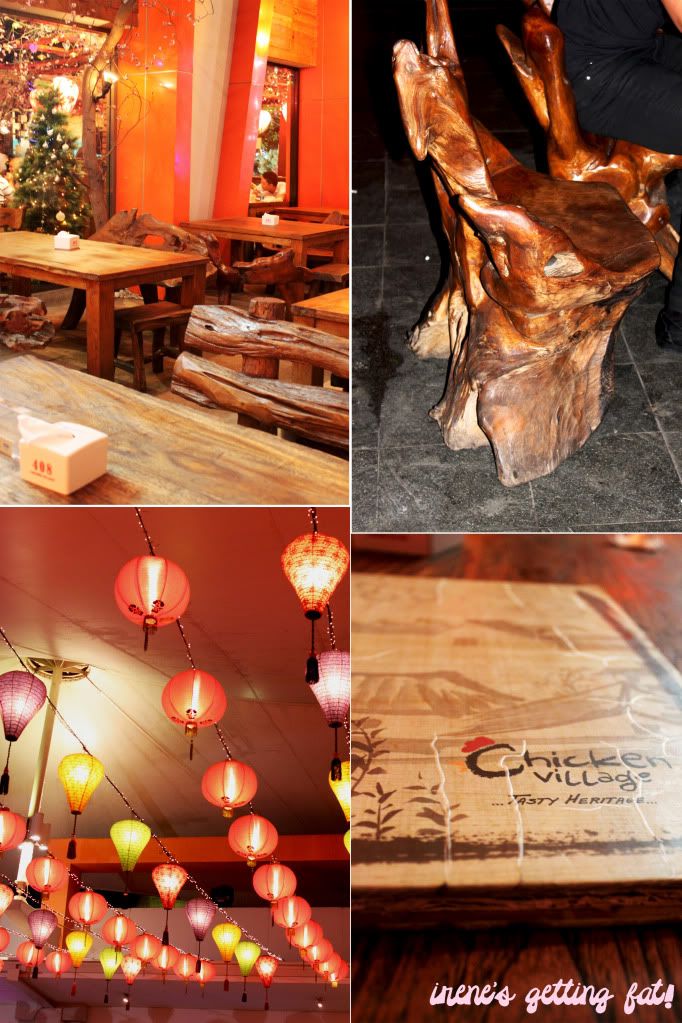 Clockwise from top left: outdoor dining, wooden (literally from wood) chair, menu book, lanterns
The uncle had all the bills, so I am sorry if I cannot provide the prices of some dishes.
Anyways we started the family dinner with drinks, of course. I went for
apple juice
, which is served in a curvy, cute glass. The juice is not strained like I want it to be, so it is not enjoyable for me and I finally swap for the brother's lighter
lemon tea
.
Apple juice (foreground) - IDR 14,800 ($1.55) and lemon tea
The
mayonnaise prawns
arrived first, consisting of a few prawns accompanied by sliced fruits and vegetables; they are pretty much mediocre.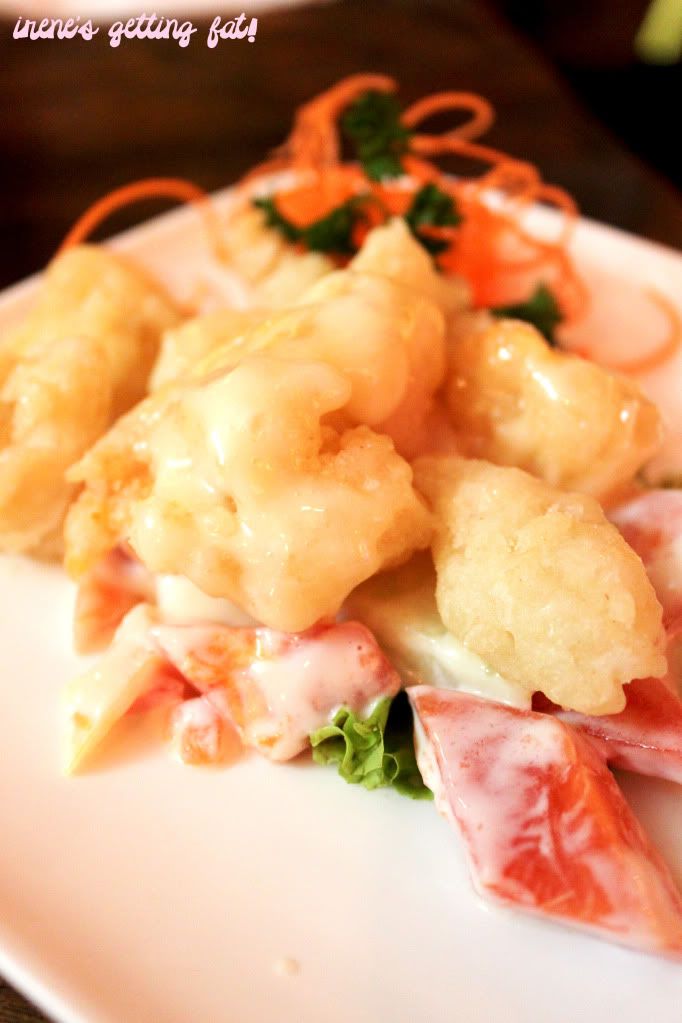 Udang mayonnaise (mayonnaise prawns)
Ikan gurame saus asam pedas (fried carp with sour and sweet sauce)
, however, is superb. The fish has crispy outer and juicy innards, drenched in punchy sour and (not so) spicy sauce. Sliced shallots and garlic on top are very welcomed too.
Ikan gurame goreng saus asam pedas (fried carp with sour and spicy sauce) - IDR 48,000 ($5.1)
The
stir fried beef
and
sapo tahu
(stir fried soft tofu with mushrooms and vegetables in thick gravy) are enjoyed very much among the table, but I remain nonplussed although they are quite tasty.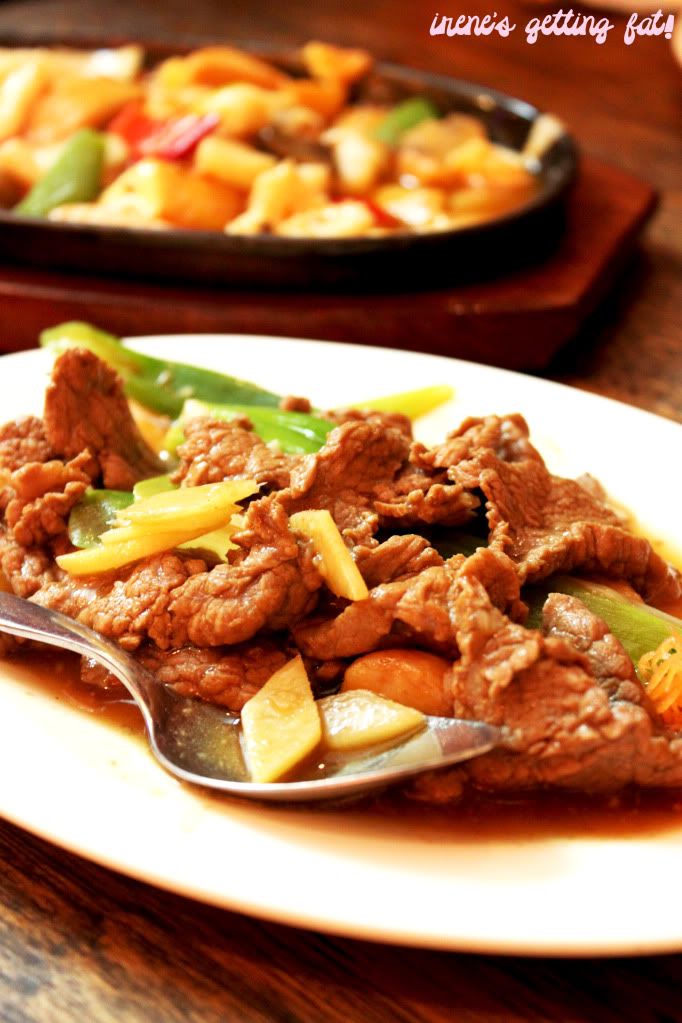 Foreground: stir fried beef; Background: sapo tahu
I bet the
beggar chicken
was on everyone's mind that night, and we just couldn't missed it. I was really curious about the dish, and very disappointed when the waiter said that it was sold out. Luckily the manager sorted the problem out, and somehow we were staring at a beggar chicken coming to our table's direction.
The beggar chicken is a unique dish, where chicken, mushrooms, and Chinese herbs are wrapped in lotus leaf and aluminum foil, and then slow cooked in a chicken-shaped clay. The waiter kindly helped us to open the beggar chicken. He used hammer to crack the clay, and revealing the aluminum package inside of it. It is very hot, obvious from all the steam and the waiter's effort to open it.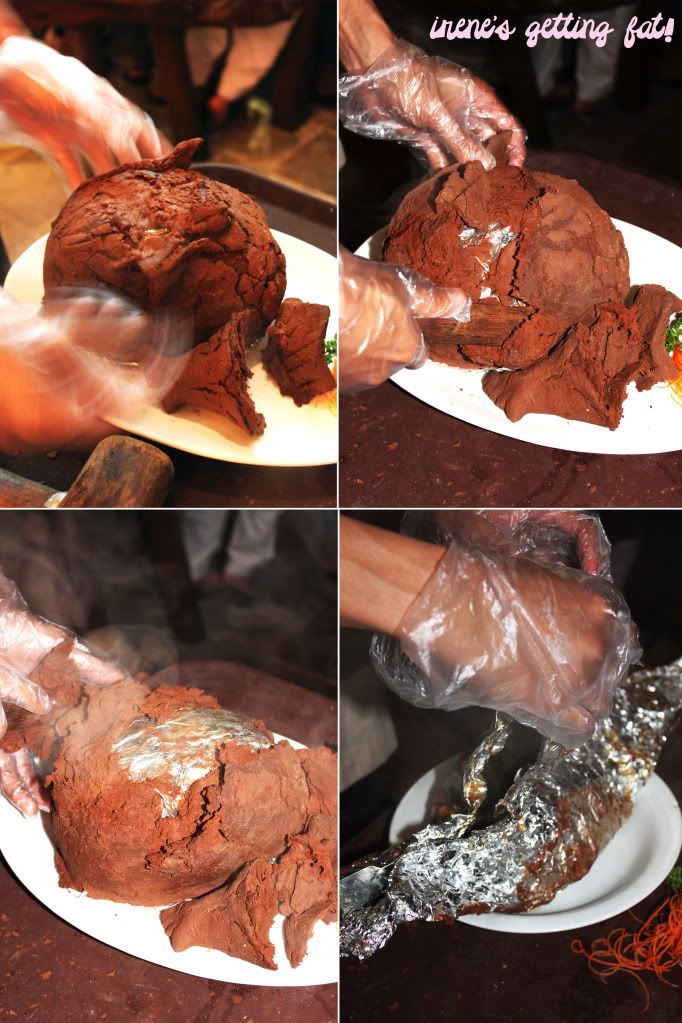 Opening the beggar chicken
It is very aromatic, that's my first impression. My first bite is full of herbs explosions, so warming and enjoyable. The chicken and mushrooms are so soft, it's almost too tender to my liking. They are juicy, nevertheless, and all the herbs produce great scent and flavour.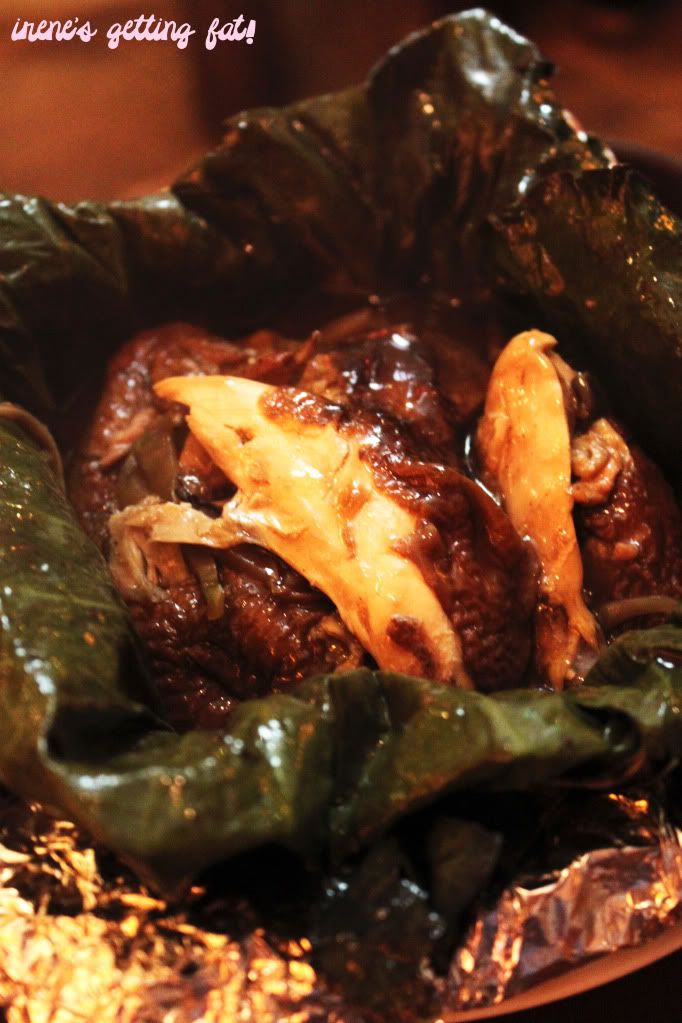 Beggar chicken - IDR 168,000 ($17.7)
Cumi goreng cabe garam (fried calamari with chilli salt)
provides the deep-fried goodness for the night. The calamari is lightly battered but still crunchy, and the chilli salt is delicious although not really fiery. This dish is another highlight of the night, I believe.
Cumi goreng cabe garam (fried calamari with chilli salt) - IDR 25,800 ($2.7)
Overall, it was a nice dinner. I have tried their dim sums before, and they are really good. Some dishes we ordered that night failed to impress me, but the beggar chicken and the chilli salt fried calamari are the dishes I will keep in mind.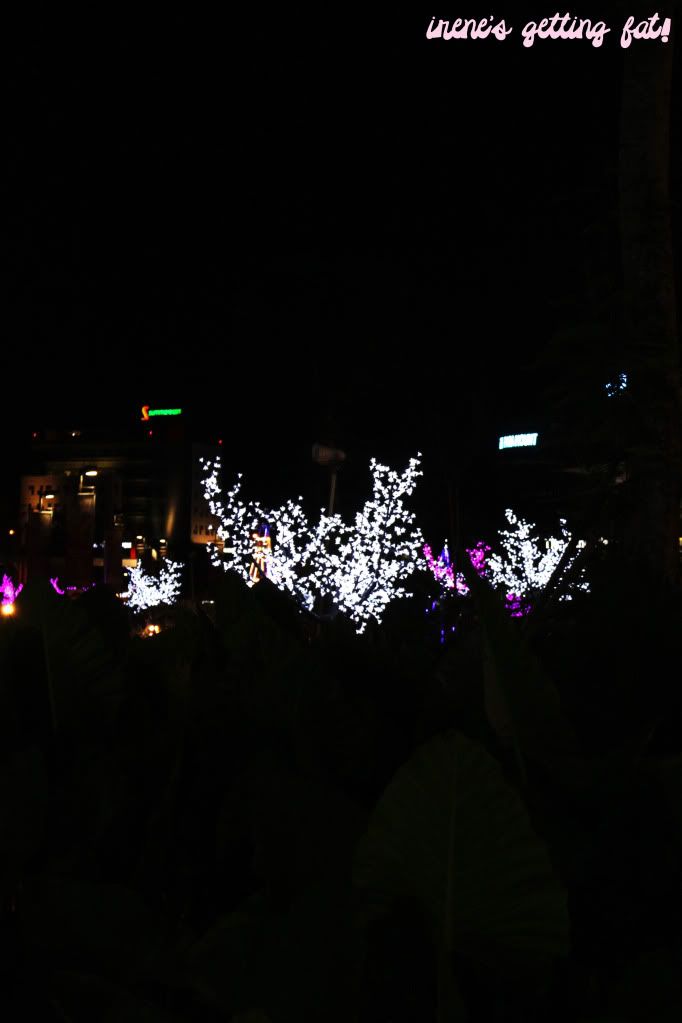 SMS's lovely light trees
Rating:
3/5 (Worth the try)
Good food (beggar chicken is very recommended), friendly and helpful service although can be slow during rush hour, price is a bit high but still affordable, great and unique ambiance (outdoor dining is recommended).
Address:
CHICKEN VILLAGE
Downtown Walk, Summarecon Mall Serpong
Jl. Boulevard Gading Serpong, Sentra Gading Serpong
Tangerang 15810 – Indonesia

Phone: +62(21) 5420 3209 , (021) 5420 5509