So how was your Christmas guys?
Blackforest cake
Mine was awesome.
Well, it started with a really bad stomach flu on 24th morning, and actually got worse on Christmas eve. It did suck you know, spending Christmas eve writhing in pain, being super nauseous, and I also struggled to get through the Christmas Eve mass.Thank God there's Roo being with me all day, that really helped a lot.
Now, the food. The first Christmas food was delivered on 24th morning, which is a blackforest cake made by
Sara
, my fellow food blogger. I really really love buying cakes, it just feels sort of magical to me. And turned out that the cake is so delicious and worth every cent that I spent.
The
blackforest cake
is addictive. The sponge cake is fluffy and soft, chocolates are heaps, and the jam between the layers are also good. It is not overly sweet, which is really good. Even the mother, who is always in a sugar diet program, loves it. I would have eaten more if the stomach flu didn't ruin my appetite.
A slice of sweet Christmas
Lunch was done at a big, humid restaurant in Bintaro, but I'll post about it later. I actually prefer a home feast on Christmas, but when the mother's out of town, there's nothing much I can do about it.
A feast is provided, though, at Roo's house. I love visiting his house on Christmas the most, as his mother is a great cook and always makes beautiful snacks and Madanonese meals which are unbeatable.
There are two awesome cookies she always whips up on Christmas,
nastar (pineapple jam filled cookies)
and
kue hati (heart shaped cookies with chocolate sprinkles)
.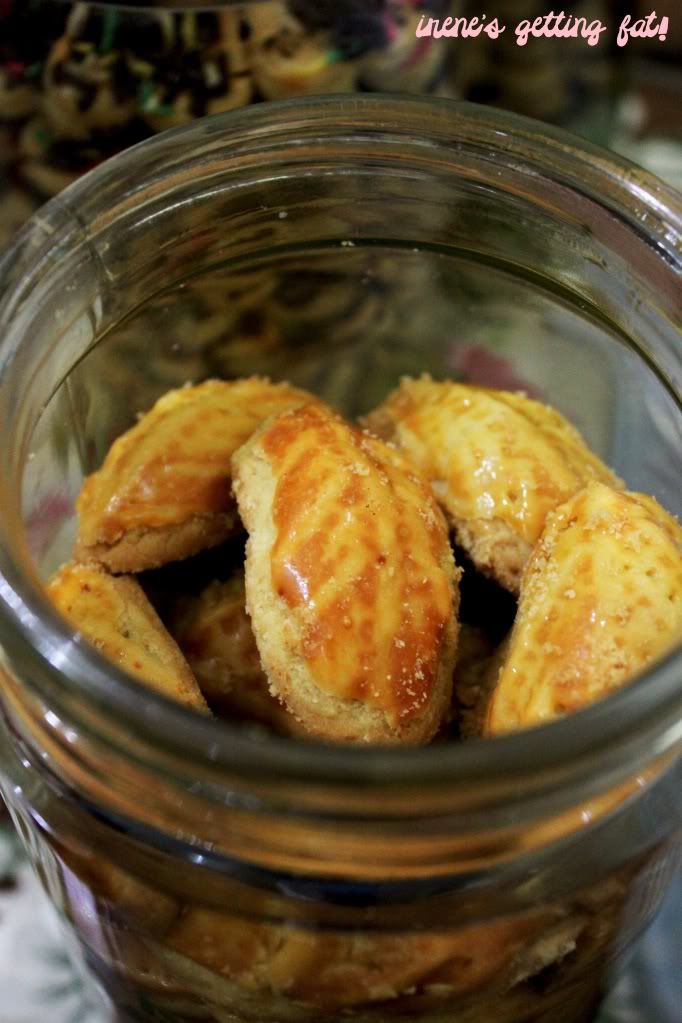 Nastar (pineapple jam filled cookies)
Both are dangerously moreish, so buttery and has the perfect sweetness level. I love them both equally. Roo can finish a tall jar of the heart cookies in one sitting.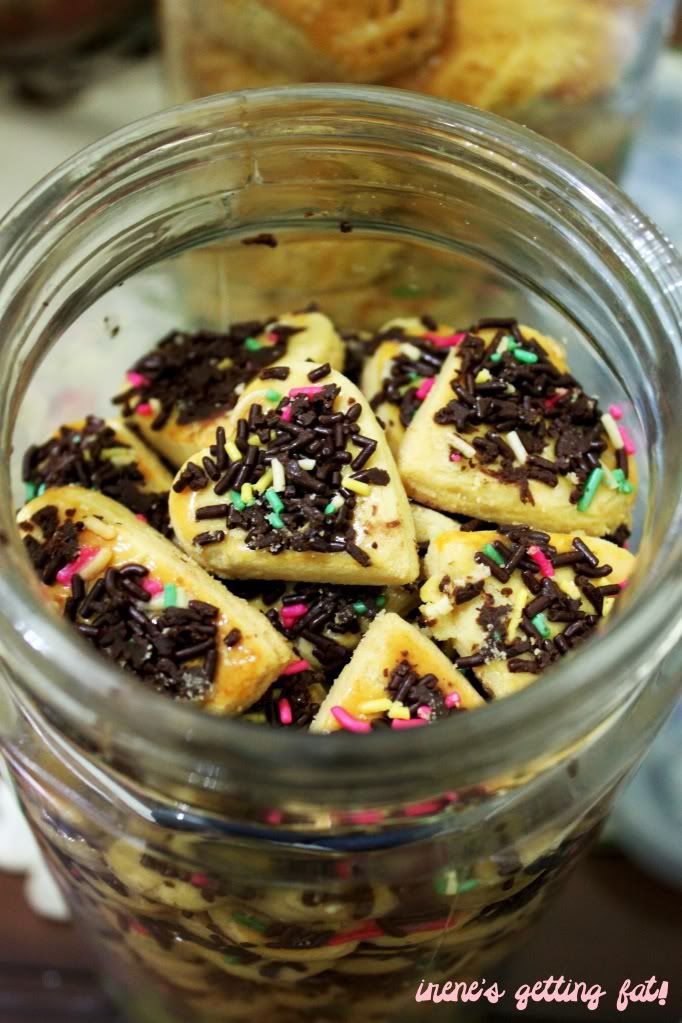 Kue hati (heart shaped cookies with chocolate sprinkles)
I have said that my favourite Indonesian food is Bangkanese. Now, I'll present you with the second greatest, the Manadonese. Full of robust spices and oh-so-spicy, I can never say no.
Frankly speaking, Roo's mom produces the best Manadonese food ever. My all time fav is this
Manadonese spicy pork cubes with spices
. I don't know the real name, but who cares when it's so freaking tasty. Very flavorsome and full of spices richness, this dish is home cooking at its best. The pork cubes are tender and have a thin layer of fat on top, which makes it even more divine. Of course, this is not recommended for those with low chilli tolerance, as this is very spicy.
Madanonese spicy pork cubes with spices
Manadonese spicy chicken
is also fiery hot, but the chicken is tender and the marinade is superb. I chose this instead of fried chicken everytime.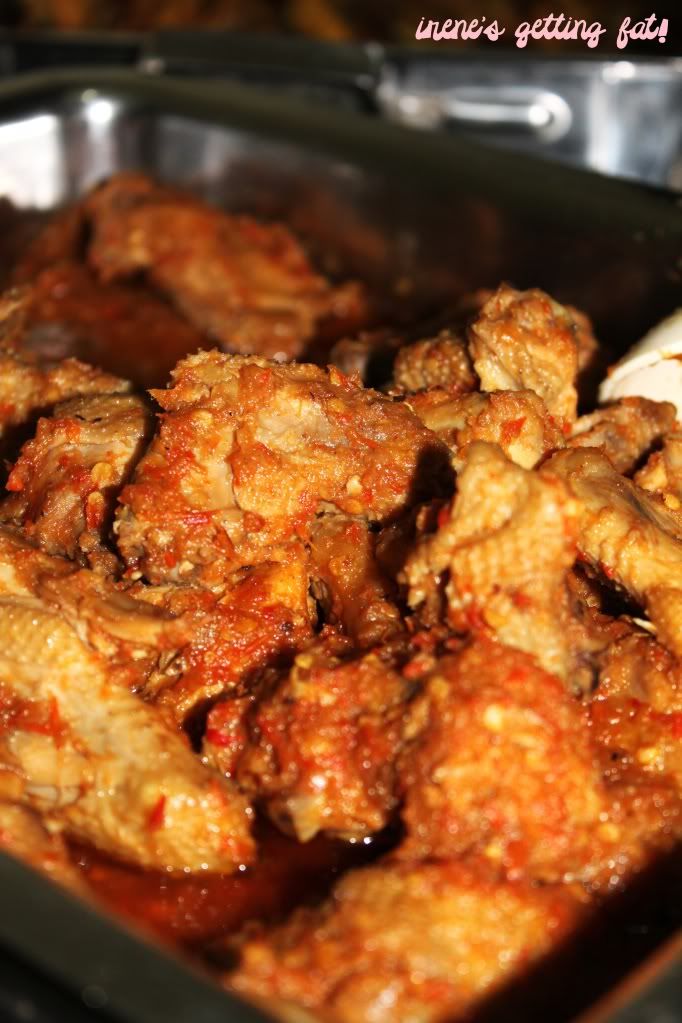 Madanonese spicy sauteed chicken
Sup brenebon (red bean soup)
is there to offer a relief from all the chillies. The soup is best served warm, it is a hearty soup full of red beans and other condiments. It is not as watery as the most soup, but very tasty and belly-warming.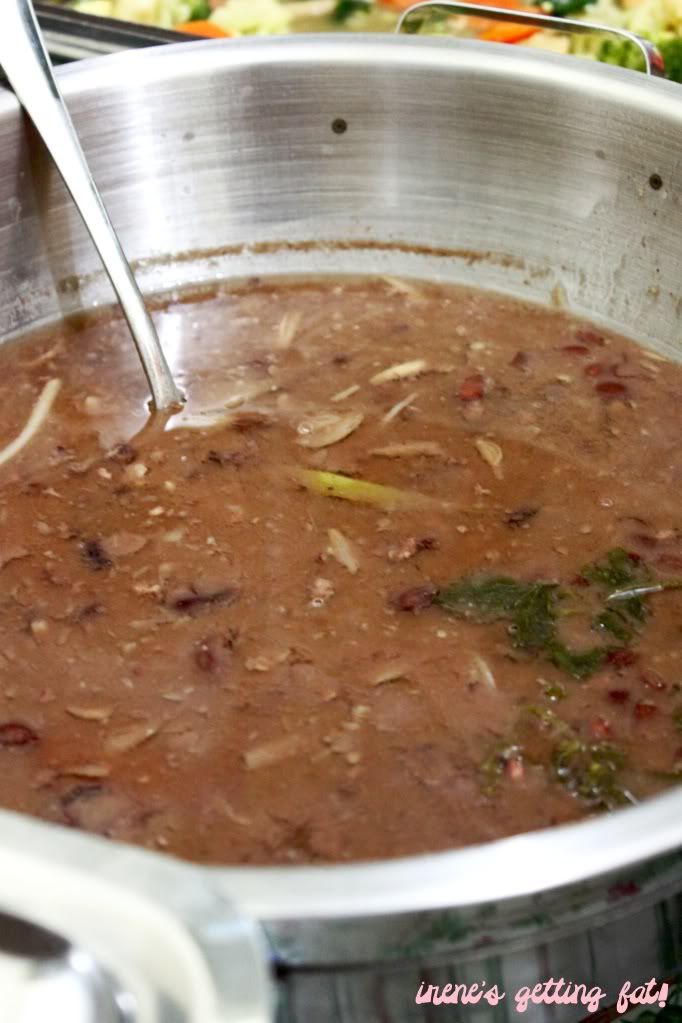 Sup brenebon (red bean soup)
Like I said, my Christmas was awesome. Although the stomach flu threatened to ruin the Christmas, the awesome food around wouldn't let the flu had its way.
So how's yours, guys? I hope you didn't get sick like I did, and did you have awesome Christmas feast? Is your fridge still full of leftovers and cakes until now? Just let me know if you need to send those cakes to someone, I'll let you know my address.