Cheeseburgers
Can you believe it's almost 2012 in less than 24 hours? Time is crazy, man. But anyway, I am so grateful I can celebrate the new year here, healthy, happy, with my loved ones.
So, are you planning to do some BBQ with family or friends tonight? A BBQ with friends is always there for me on every NYE, well except when I spent one NYE in Sydney. At the complex where I live, there are always fireworks exploding beautifully here and there on every NYE. So noisy, but kinda fun as well. Especially when I got to participate in some fireworks party.
And BBQ party is almost like a tradition here. NYE is a great opportunity to hit the barbie, along with friends and families, don't you think? Then eat so much until midnight, and let our hair smells like smoke for the next two days. I'll join one BBQ party this year, hopefully.
So how about you guys? Are you going to participate in a BBQ party this year? If so, I have a really good idea what to bring/make to a BBQ party.
Cheeseburgers
! I mean, who doesn't like cheeseburgers? Well, if you're vegetarian that is a different story of course. But anyway, I bet cheeseburgers are a great treat for BBQ. Simple, tasty, and (quite) filling, just perfect to keep the guests full until the clock dings at 12 AM.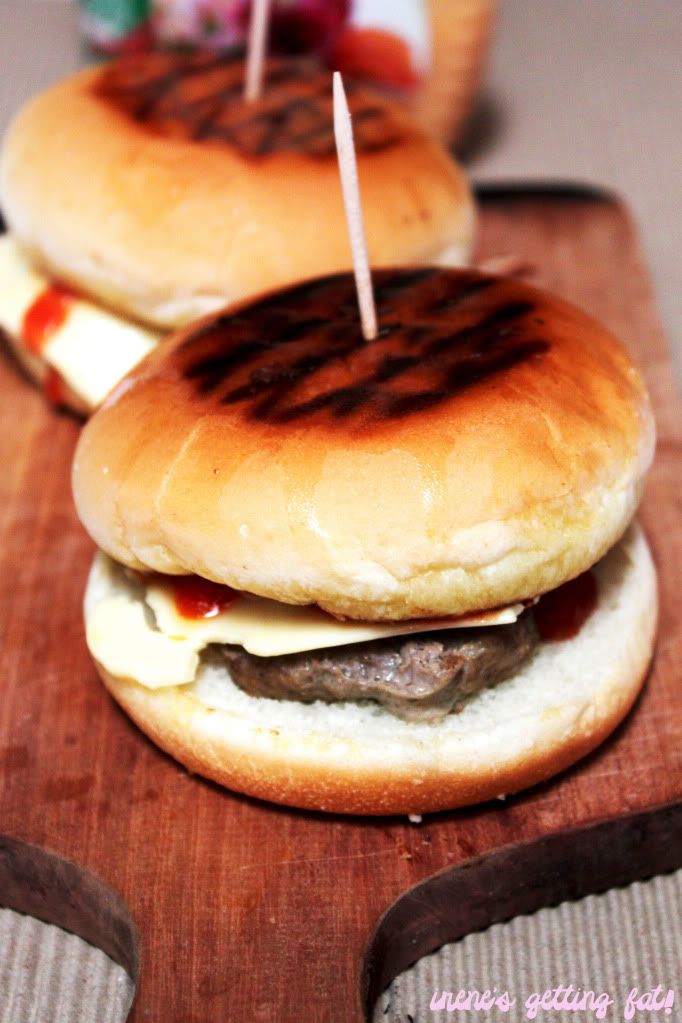 Homemade cheeseburgers
You can use the processed, super thin burger beef slices of course, but it won't taste special, will it? I made these babies for myself actually, who had a dream about cheeseburger. That's how much I was craving it. An ordinary cheese burger with processed burger beef won't satisfy me, so I made the pattie myself too.
I'm not gonna lie to you, to make the burger pattie is so simple. Just
mix
minced beef, an egg, salt, pepper and a bit soy sauce
. I also added some
rosemary
to eliminate any fishy smell. Simply combine them, then
shape
the mixture into approximately 2-cm thick patties. You can
refrigerate
them first, but I skipped that step. Preheat your pan, and
grill
them until brown and cooked thoroughly. Now put
cheese
onto the patties, and put them into oven until the cheese melts. I didn't use oven, I used my two-sides pan instead, so the cheese melts well.
Prepare your
buns
(grilling the buns is also recommended), pickles, sauces, and any veggies that tickle your fancy. I made my pickles the day before, so it's quite sour already. Then start
arranging
your burgers, and marvel on their beauty.
These may not be the fanciest cheeseburgers, but they are so tasty for sure. One won't be enough, I am warning you. I am actually surprised about how juicy the pattie is, and the addition of rosemary is great too.
If you are generous enough to bring this to a BBQ, simply prepare the patties and the condiments, so they can be freshly grilled on the party. And let the guest make their own cheeseburgers themselves. I'm sure that'd be a great hit on the party, and everyone will love you.
Cheeseburger innards
Back to the main topic here, 2012 is going to knock on our door soon!
If I am asked about my 2011 highlights, that would be starting this food blog of mine and coming home to Indo after 10 months of survival.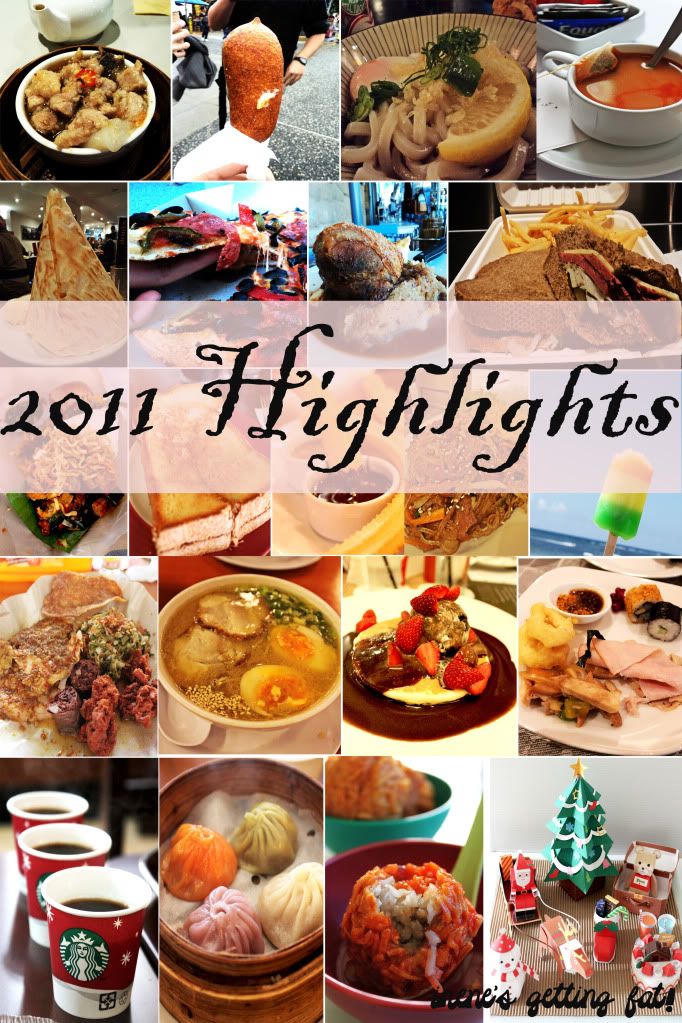 My 2011 food highlights
Since starting this blog, in 2011, I have eaten my first timers food. I've had my first
roti tisu
,
rueben sandwich
,
cheese and fries on a stick
,
churros
,
Korean food
,
xiao long bao
, and
kaya toast
. I loveee them all, and also I'm glad I'm not missing out on them anymore.
I also had the most awesome
pizza
,
ramen
, and
pork knuckles
this year.
I had also cooked and baked awesome things such as the
beef potato
and the
salted and malted cookies
, and things that I never thought I would ever make like
klepon
and
hashbrown
.
And the most awesome thing is that I got invited to my
first
food
tastings
! I love food tasting you know, but who doesn't, right?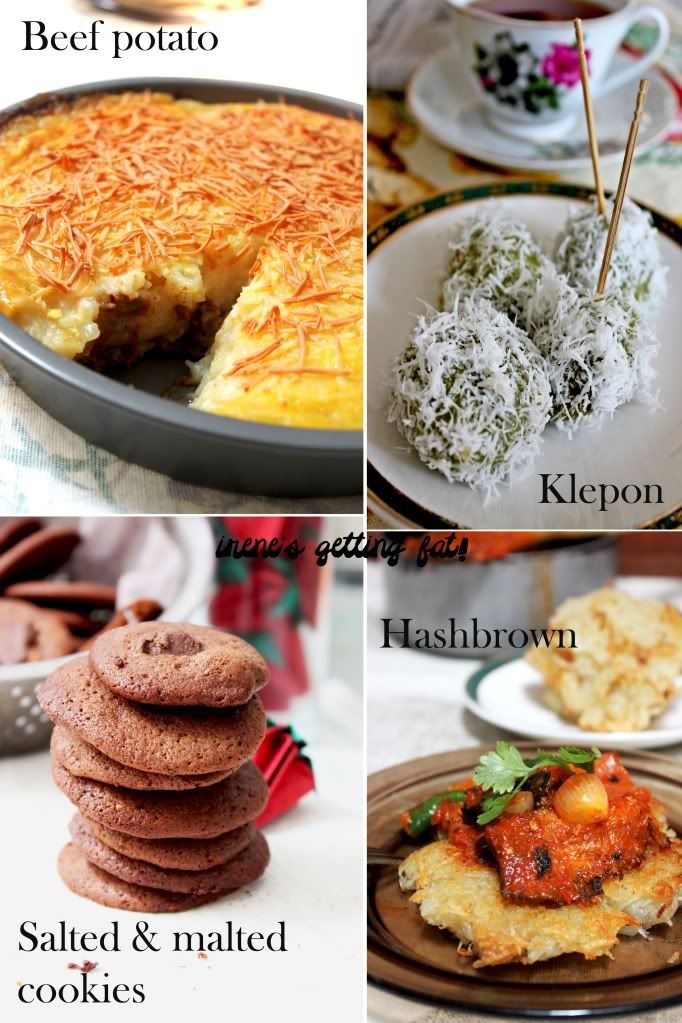 Things I cooked and baked
My resolution for 2012? To keep blogging of course, keep sharing delicious food in improved reviews and photos. I hope that
Irene's Getting Fat!
will evolve continually to the better, and you guys can enjoy it more and more everyday.
I'd also love to have my first timers food in 2012, maybe I'll have my first red velvet, cheese fondue, and pavlova. Can you believe it that I've never tried any red velvet before? So yeah, keep the recommendations coming, please.
Finally, I'd really like to thank all of you who have been kindly supporting
Irene's Getting Fat!
until now. Many thanks for the suggestions, feedbacks, comments, mentions, and many other forms of support. I hope for an awesome New Year for you, and may our resolutions in 2012 are achieved! Here's to a great year ahead and lotsa deliciousness!
HAPPY NEW YEAR!
*insert fireworks sound here*